29 November 2019
Munro masterclass to hot to follow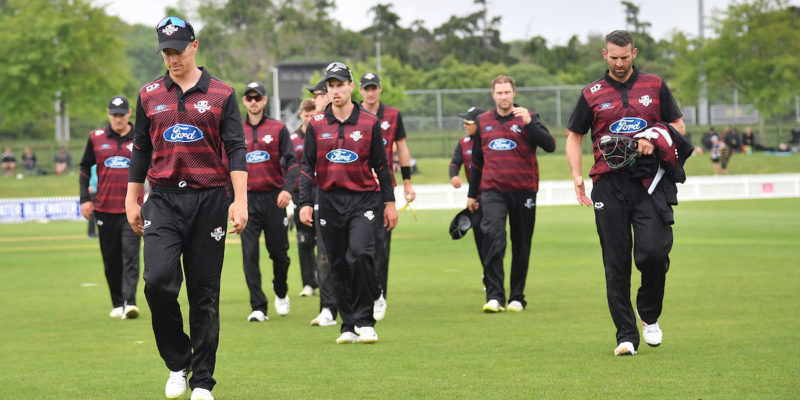 Canterbury finish the Ford Trophy centralised round two from three after a batting masterclass by Colin Munro saw the visitors post their highest ever Ford Trophy total and the first-ever List-A score of 400+ at Hagley Oval.
His hundred today flying off just 57 balls, supporting half centuries from Glenn Phillips (66), Mark Chapman (70 off just 44) and Robbie O'Donnell (52 off 44) – topped off by an explosive 27 from Sean Solia at the death – kept the scorers busy and ensured a massive total of 401/8 went up on the board against Canterbury in the pivotal top-of-the-table clash.
It was a bat-first day all round in the last of the centralised rounds in Canterbury and the Aces had certainly recovered quickly from a big opening blow: the loss of Martin Guptill who was bowled early doors by Canterbury quick Ed Nuttall.
Munro brought up his first 50 runs off just 29 balls, with his second six.
Putting on 231 with Glenn Phillips, the pair would set a new second-wicket partnership record for matches between the Aces and Canterbury (previously it stood at 156, set by Paul Hitchcock and Richard Jones in 2006/07), continuing a busy record-busting week from the Aces top three.
As he closed in on his 150, Munro also reached his 4000th List A run en route to becoming the season's top run-scorer with his innings today – and, remarkably, the side had now witnessed five centuries in the space of a week, with two of those in the 150+ department in consecutive games.
Needless to say, Canterbury faced a daunting chase in the quest to hang on to the top rung of the ladder against the Aces chasers breathing down their neck.
The hosts got their first hundred runs on the board inside the first 17 overs, but they were also already four down, having just lost captain Cole McConchie.
Form opener Jack Boyle was still there with a half century, but he had lost all his top order mates with still more than 300 required.
Will Somerville then quickly added Todd Astle to McConchie in his wickets column to have the hosts a perilous five down in the 19th, the Aces sniffing a bonus point.
By the 25-over mark Canterbury was six down with Boyle falling caught to Somerville (4-48) after a gutsy 82-ball 92.
Cameron Fletcher came in and provided a quick 27 before becoming Somerville's fourth victim.
Andrew Ellis and Henry Shipley were left needing 12 runs an over, and despite Ellis' undefeated 26* the end was nigh as Kyle Jamieson and Ben Lister zeroed in on the tail to wrap up a bonus point win with 13.2 overs in hand, the Aces leapfrogging Canterbury back to the top of the table.
Canterbury now have a two week break, before the Dream 11 Super Smash season gets underway on December 15.