Show your support for Hagley Oval – Become a Member of CLUB 250.
For $250+GST, you will be part of history and have a plaque with your chosen name or brand on the famous white picket fence around the Oval.
Don't miss out as we're only producing 250 plaques and once they're gone, they're gone.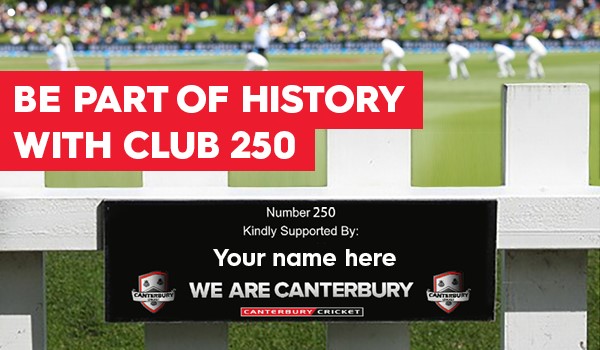 | | |
| --- | --- |
| 1 | Sir Richard Hadlee |
| 2 | Norm Withers & Family |
| 3 | Hamish & Maxine Douch |
| 4 | Team Hutchinson Ford |
| 5 | Malcolm & Alison Ellis |
| 6 | Team Hutchinson Ford |
| 7 | The Davidson Family |
| 8 | Harvey & Lois King |
| 9 | The Rutledge Family |
| 10 | Ohoka Cricket Club |
| 11 | Hamilton Family |
| 12 | David & Diane Gallop |
| 13 | The McAlpine Family |
| 14 | Robbie's Riccarton |
| 15 | Canterbury Country Cricket Association |
| 16 | Naturally Tiles Ltd |
| 17 | Bob & Marilyn Masefield |
| 18 | Russley Golf Club |
| 19 | The Cini Family |
| 20 | Harcourts Vision |
| 21 | Lauren Hutchinson |
| 22 | Amy Satterthwaite |
| 23 | Lea Tahuhu |
| 24 | Jo & Riley Smith & Family |
| 25 | The Calder Family |
| 26 | Peter Murphy Painters |
| 27 | The Nicholls Family |
| 28 | The Hills Family |
| 29 | Warwick Joy Contractors |
| 30 | Paul Renwick Joinery Limited |
| 31 | The Davidson Family |
| 32 | Xava Design |
| 33 | Jim Wakefield – Buller Cricket |
| 34 | Mike & Sue Satterthwaite |
| 35 | Phlip Harris |
| 36 | Price Family Trust |
| 37 | Novo Advertising & Design |
| 38 | John Grocott & Family |
| 39 | Stadium Cars |
| 40 | NZ Cricket Players Association |
| 41 | Springston Cricket Club |
| 42 | The Fitz Sports Bar |
| 43 | Diamond Harbour / Kaituna Cricket Club |
| 44 | Blair + Rebecca Paterson |
| 45 | Hirepool |
| 46 | David M Quested |
| 47 | Peter Rattray |
| 48 | Mark B Crawford |
| 49 | Saunders Robinson Brown |
| 50 | The Allott Family |
| 51 | |
| 52 | Rod & Liz Abbott & Family |
| 53 | Rata Trust |
| 54 | The Rock Rolleston |
| 55 | |
| 56 | |
| 57 | |
| 58 | |
| 59 | |
| 60 | John Durning |
| 61 | Matthew Durning |
| 62 | Joseph Durning |
| 63 | |
| 64 | |
| 65 | Novo Advertising & Design |
| 66 | |
| 67 | Hoddy & Mahanga Hodson |
| 68 | |
| 69 | Alternative Commentary Collective |
| 70 | Waltham Mechanical |
| 71 | |
| 72 | |
| 73 | |
| 74 | |
| 75 | |
| 76 | Robert Samuel |
| 77 | Victoria Samuel and Renato Iemma |
| 78 | The Mitchell Family |
| 79 | |
| 80 | Mike & Karalyn Johnston |
| 81 | |
| 82 | |
| 83 | |
| 84 | |
| 85 | |
| 86 | |
| 87 | |
| 88 | Tim Jamieson – Early Edition MPC Ltd |
| 89 | Mark, Vicky, Paul, Edy & Chris Roughan |
| 90 | |
| 91 | |
| 92 | |
| 93 | |
| 94 | |
| 95 | |
| 96 | |
| 97 | |
| 98 | Action Indoor Sports |
| 99 | Riccarton Signs |
| 100 | Margaret Thornton |
| 101 | Trevor Thornton |
| 102 | Tile Direct |
| 103 | |
| 104 | |
| 105 | |
| 106 | |
| 107 | |
| 108 | |
| 109 | |
| 110 | |
| 111 | R+S Property Care |
| 112 | |
| 113 | |
| 114 | |
| 115 | |
| 116 | |
| 117 | |
| 118 | |
| 119 | Ben Thornton |
| 120 | Stadium Finance |
| 121 | |
| 122 | |
| 123 | Zack and Zed Family Trust |
| 124 | The Holland Family |
| 125 | Lee & Marian Robinson & Family |
| 126 | |
| 127 | Joe Rose |
| 128 | |
| 129 | |
| 130 | |
| 131 | |
| 132 | |
| 133 | |
| 134 | |
| 135 | |
| 136 | |
| 137 | |
| 138 | |
| 139 | |
| 140 | EDL |
| 141 | |
| 142 | |
| 143 | |
| 144 | |
| 145 | Josh, Harry & Charlotte Kreft |
| 146 | |
| 147 | |
| 148 | Jennifer & Steve Logan |
| 149 | The Breathers |
| 150 | Coasters Tavern |
| 151 | TTA Holdings Ltd |
| 152 | |
| 153 | Alec & Jill Astle |
| 154 | |
| 155 | |
| 156 | Vaughan Brown |
| 157 | Rowan Milburn |
| 158 | |
| 159 | |
| 160 | EDL |
| 161 | |
| 162 | |
| 163 | Barry Hadlee |
| 164 | |
| 165 | |
| 166 | |
| 167 | |
| 168 | |
| 169 | |
| 170 | |
| 171 | |
| 172 | |
| 173 | |
| 174 | |
| 175 | George Watson Descendants |
| 176 | M A Fisher & Family |
| 177 | David Elder & Family |
| 178 | |
| 179 | |
| 180 | |
| 181 | O C Blackman |
| 182 | |
| 183 | |
| 184 | |
| 185 | Paslode |
| 186 | |
| 187 | |
| 188 | Tazz Sports Ltd |
| 189 | |
| 190 | |
| 191 | |
| 192 | |
| 193 | |
| 194 | |
| 195 | Robert, Vicky, Preston & Carter Genet |
| 196 | |
| 197 | |
| 198 | |
| 199 | Printsmiths |
| 200 | Simon Carter |
| 201 | Marketing Sport New Zealand |
| 202 | |
| 203 | |
| 204 | Kirsty Bond & Bond Family |
| 205 | Paslode |
| 206 | |
| 207 | |
| 208 | |
| 209 | |
| 210 | |
| 211 | |
| 212 | |
| 213 | |
| 214 | |
| 215 | |
| 216 | |
| 217 | |
| 218 | |
| 219 | Richard Hayward |
| 220 | The Hastings Family |
| 221 | |
| 222 | |
| 223 | |
| 224 | |
| 225 | |
| 226 | |
| 227 | |
| 228 | |
| 229 | |
| 230 | |
| 231 | |
| 232 | Jacob & Gemma Pepper |
| 233 | |
| 234 | |
| 235 | |
| 236 | |
| 237 | |
| 238 | |
| 239 | |
| 240 | |
| 241 | |
| 242 | |
| 243 | |
| 244 | |
| 245 | |
| 246 | |
| 247 | Henry Nuttall & Madeleine Brewtt-Williams |
| 248 | Andrew & Jo Nuttall |
| 249 | |
| 250 | The Curwin Family |