13 November 2019
Calling all Cantabrians!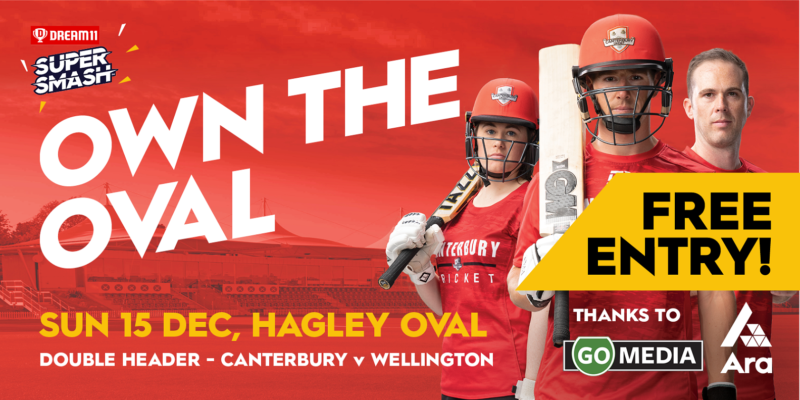 The Dream 11 Super Smash is almost here and to celebrate Canterbury Cricket is offering FREE ENTRY to the first double-header of the season at Hagley Oval. Our Canterbury Magicians and Kings take on the Wellington Blaze and Firebirds on December 15th, in what will be an action-packed afternoon of FREE T20 cricket!!
Starting at 12:40 pm, our Magicians look to avenge last year's narrow final loss to the Blaze, after falling short on the final ball. At 4:10 pm our Kings debut their new playing strip, against the Firebirds, after switching the purple design for the traditional colours of Canterbury.
The FREE afternoon of cricket is down to the initiative of Ara and GoMedia, and offers the Canterbury community the chance to #OWNTHEOVAL, by coming down and enjoying what is arguably the best cricket ground in the country.
"A massive thank you has to go to Ara and Go Media," said Canterbury's CEO, Jez Curwin. "To be able to offer a free afternoon of cricket to the people of Canterbury is an amazing opportunity. It's a great chance for our community to come and support our teams and for us to kickstart our Super Smash Campaign."
Around the ground, we will have a wide range of food and drink vendors as well as our inflatables for the kids to replicate the action-packed cricket from out in the middle. After the game, all of our players will be available for autographs and selfies so come on down for what will no doubt be an amazing afternoon of domestic cricket.
WHO: Canterbury Magicians v Wellington Blaze, Canterbury Kings v Wellington Firebirds
WHAT: Dream 11 Super Smash
WHERE: Hagley Oval
WHEN: From 12:40pm on the 15th of December