08 December 2020
Back to back McClure centuries!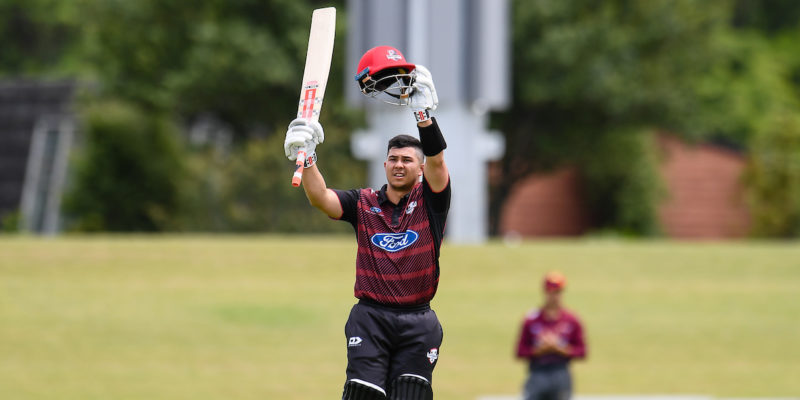 Canterbury batsmen Ken McClure is in the runs and then some.
After five Plunket Shield centuries over the past six years, he scored his maiden Ford Trophy century on Sunday. By Tuesday, he had two of them – and now, just one more this summer will see a record fall for most Canterbury tons in a season.
The first drop is in prolific form with one of those first-class centuries, his 165 against the Otago Volts in Alexandra, also arriving this season, just three weeks ago.
But the solid form counted for no points today as ND inflicted Canterbury's first defeat of the season to narrow the gap at the top of the table to just one point.
After both Canterbury opening batsmen exited early today – with Northern Districts Ford Trophy debutant Matt Fisher picking up a big early maiden wicket when Chad Bowes was caught, McClure's run-a-ball 105 was all the more valuable for his side at Hagley.
He batted from the fourth until the 32nd over, with the key partnership his 105-run stand with captain Leo Carter (40 off 32) for the third wicket.
The pair put unbeaten Canterbury back on track, Cam Fletcher taking over from McClure through the back of the innings with 39 not out, also at run-a-ball pace, to ensure the hosts never lost momentum en route to their 266 for eight in the 50 overs.
ND seamer Brett Randell had meanwhile started the ball rolling for the visitors and, after he eventually got one through McClure to put his castle in disarray, he carried on to pick up 3-65 for his 10 overs, with the remaining wickets shared around the attack.
Needing 5.32 an over, ND made a good start at the top in response, both opening batsmen Jeet Raval and Katene Clarke contributing.
Clarke had reached a half century off 63 balls before he was run out by an excellent piece of keeping from Fletcher at 93/1.
Raval then lost Dean Brownlie at the other end as well, but made it to his own half century off 73 balls. The platform was built, but ND still needed to stay on top of a required rate of seven per over to stay on track.
Raval was the man for the job. He added to his two Ford Trophy centuries for the Auckland Aces and maiden effort for the Central Stags with his first ton for ND: 105 off 122 balls.
The visitors were doing everything right – and then, a flurry of late wickets suddenly had Canterbury right back in the contest.
The match was boiling down to a nailbiter, but Brett Hampton helped hammer 15 runs off the 49th to give ND some breathing space.
Now needing seven off the last over with Hampton and Anurag Verma versus Canterbury's deathman Will Williams – who ran out Verma off his second delivery, it came down to five runs off four balls.
Hampton dug out a peach of a follow-up delivery and scored off it to boot, to leave three for the win, Canterbury's undefeated status on the line.
Scrambling another two, now the scores were tied, with two balls to go.
Hampton swung hard and nudged the ball just far enough to claim victory with one ball to spare.
Canterbury now head to New Plymouth to meet the Central Stags on Sunday.