13 August 2019
Women cricketers welcome new agreement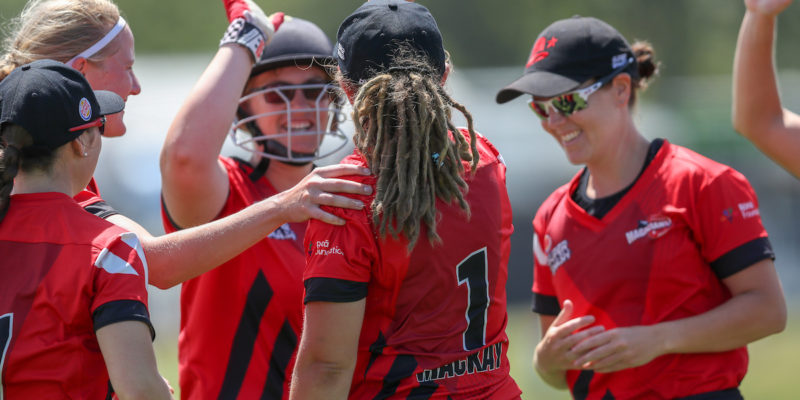 WHITE FERNS captain and long time Magician Amy Satterthwaite has hailed cricket's new Women's Master Agreement as a historic and progressive accord that provides another significant step forward for the game in New Zealand.
Satterthwaite said the agreement, reached in principle by New Zealand Cricket and the New Zealand Cricket Players Association, represented a major breakthrough for women's cricket in New Zealand, particularly in terms of financial consideration for players below international level.
"I know people tend to focus on the WHITE FERNS' contracts but the investment in domestic and developing players is an important step forward for women's cricket in New Zealand," she said.
"This is an agreement that recognises the need to grow the game at grassroots and domestic level in order to produce WHITE FERNS who excel on the world stage."
Satterthwaite said the increase in remuneration for WHITE FERNS players, more than doubling the total player payments under the previous agreement, was also a momentous advance for the women's game.
"This means all WHITE FERNS can now ply their trade as fulltime professional cricketers as well as having the flexibility to participate in overseas leagues – which is a huge leap forward for all involved.
"With the ICC Women's World Cup 2021 on the horizon, this will mean a great deal in terms of upskilling and training, and providing the best possible environment for preparing ourselves and the team."
Under the terms of the three-year agreement, the number and value of WHITE FERNS contracts has increased; a new tier of contracted Development Players has been introduced and, for the first time, domestic players will be paid by their Major Associations.
Features include:
• A total Player Payment Pool of $4.136m across the three-year term
• Domestic players included for the first time, increasing the total number of players on contract to 79 – up from 15 in the previous agreement
• 17 (up from 15) centrally contracted WHITE FERNS earning a minimum remuneration of between $44,000 and $64,000 annually. This includes a retainer payment, a retirement fund contribution and a promotional payment
• In addition, WHITE FERNS can each earn up to $16,000 in match fees per year
• 8 centrally contracted Development Players earning $7,500 for participating in NZC high performance programmes and the two domestic competitions
• 54 (nine per Major Association) domestic players on Domestic Competition Agreements worth $3,250 – in consideration of their availability for the Super Smash and Hallyburton Johnstone competitions
• Players continuing to have the right to participate in overseas T20 competitions in Australia, England and India
WHITE FERNS' allrounder Suzie Bates echoed Satterthwaite's sentiment, saying the new investment in domestic and developing players underpinned a more strategic and considered approach towards women's cricket in New Zealand.
"This agreement will hopefully make the game more attractive and accessible for young, aspiring players," she said.
"From what I can see, it provides a great framework and starting point for the eventual semi-professionalisation of the women's domestic game in New Zealand – and that's probably the most important point in the entire agreement."
The WMA has also found favour within the domestic women's ranks; Auckland Hearts cricketer Arlene Kelly describing it as a key plank in the development pathway for New Zealand women's cricket.
"It's awesome to see the domestic players brought into a new agreement and our commitment to the game being recognised by NZC," said Kelly.
"We now have a genuine pathway to international cricket that young female players can aspire to."
The Agreement is the result of negotiations between the NZCPA and NZC and, when finalised, will replace the former Memorandum of Understanding, which expired on July 31.
NZCPA chief executive Heath Mills said he was delighted with the outcome and believed the agreement represented a great step forward for the women's game.
"We're particularly pleased with the inclusion of domestic players in the contracting environment," he said.
"Providing a framework for 79 players to be part of the game's high-performance system is a major development that, quite apart from anything else, reflects a genuine appetite to grow the women's game here in New Zealand."
Mr Mills said it was also good the new agreement continued to recognise the importance of overseas T20 competitions and contained the flexibility for contracted players to participate in them when commitments allowed.
NZC chief executive David White said the negotiations had been thorough and robust but added it was clear both parties shared a common goal in wanting to see women's cricket in New Zealand thrive.
"I want to thank the NZCPA and the women's cricketers for negotiating in such good faith and for never backing away from the absolute priority we all share: to advance the women's game in the most effective and expedient way possible.
"This agreement, I think, addresses two key areas – it significantly increases the WHITE FERNS remuneration to reflect the growing commitment of our international players, and it seeks to invest in our domestic, developing and emerging players."
Mr White said the agreement was calculated over a three-year term so that it would expire at the same time as the current Men's Master Agreement.