07 November 2020
Canterbury make it 3 from 3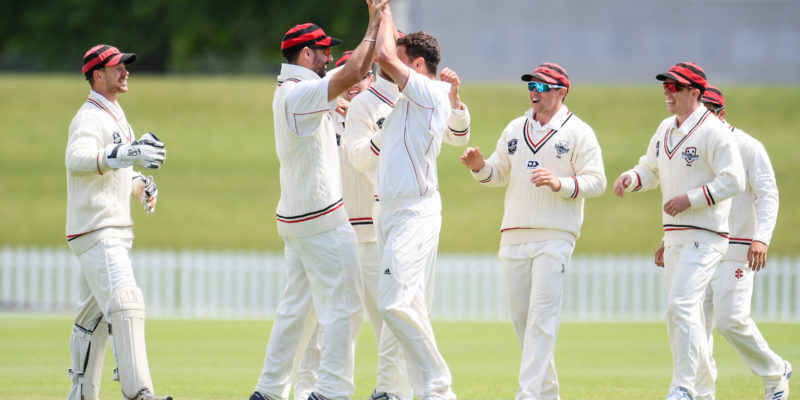 DAY THREE
Despite the absence of BLACKCAPS Tom Latham (groomsman duties) and Matt Henry (injury), Canterbury stayed unbeaten to open up a handy gap at the top of the Plunket Shield table.
Making it three wins from three games so far this season, the hosts turned in an innings victory against ND with a day and two sessions to spare.
Man of the moment Will Williams started the day on a top note, dismissing BLACKCAP BJ Watling cheaply for the second time in the match – this time for a duck.
Canterbury had begun the day needing seven wickets for the win, ND still trailing by 114 but suffering a further wicket just two overs later with Scott Kuggeleijn departing tried to lash out at 58/5.
Brazen Kuggeleijn had just pumped 16 runs off 10 balls, but now the bog deepened as Brett Hampton joined opening batsman Henry Cooper who had meanwhile kept at his post for two hours, for 21 runs.
Fraser Sheat then gave Williams a break from appealing by capturing both batsmen in the same over, to have ND with their maroon backs to the wall: just three wickets in hand and a long way off making Canterbury bat again at 64/7.
Sheat (above, 5-31 and nine wickets for the match) meanwhile sat on four wickets now, sniffing another five-for of his own. He quickly bagged it with the wicket of Joe Walker, meanwhile Sean Davey had snaffled his maiden first-class wicket trapping Ish Sodhi after a quick 17.
None of the ND lower order had held back with the bat, and at nine down had got themselves within 48 runs of avoiding an innings drubbing, at least. But now it was down to one wicket.
Daryl Mitchell finished off the victory against his former side to finish with 3-10 off 5.5 overs.
Canterbury now heads to Alexandra's Molyneux Park next week to look to stay unbeaten against the Otago Volts, while ND heads to Saxton Oval for a rematch with the Central Stags.
DAY TWO
Big Will Williams has done it again. From no first-class bags to two in the space of a week, the Canterbury right-arm medium pacer's on fire.
Today, his new career best 5-26 ripped through the Northern Districts middle order to dismiss the visitors for just 113 in 59 overs.
It handed Canterbury a handy 153-run lead, Katene Clarke's 25 the top score as Williams stirred it up. Fraser Sheat was in the mixer again too, pocketing 4-32 off his 16 overs of pace.
Rain arrived later in the afternoon but by then the match had continued to progress at speed, ND following on and 39 for three off 21 overs when bad light called an end to an action-packed day.
Allrounder Daryl Mitchell will begin the third day with two in his column already, while Sheat picked up his 'fifth' of the day in the second innings by again accounting for Jeet Raval.
DAY ONE
On a sunny Rangiora Guy Fawke's morning, Canterbury captain Cole McConchie made it three from three in the toss department so far this season, looking to extend his side's slender lead at the head of the table at the expense of Northern Districts.
But after struggling to get a big partnership humming, arguably it was ND's day.
Leo Carter at six reached a half century for the hosts as he put on a 70-run stand with Daryl Mitchell for the fifth wicket, but Scott Kuggeleijn stopped them both in the 61st and 63rd overs, when Canterbury was still a middling 183/6.
Theo van Woerkom eventually tapped a single off Kuggeleijn to post the Canterbury 200 and first batting bonus point in the 75th over, with some 21 overs remaining in the session.
Shortly afterwards, however, he was walking back to the pavilion at 203/7 after Brett Hampton picked up his second.
By stumps, Canterbury was all out for 266 – after a brazen career best 36 from number eleven Fraser Sheat – with ND set to begin Day 2 at seven for no loss and the full suite of bowling bonus points.