04 March 2020
Volts too strong down south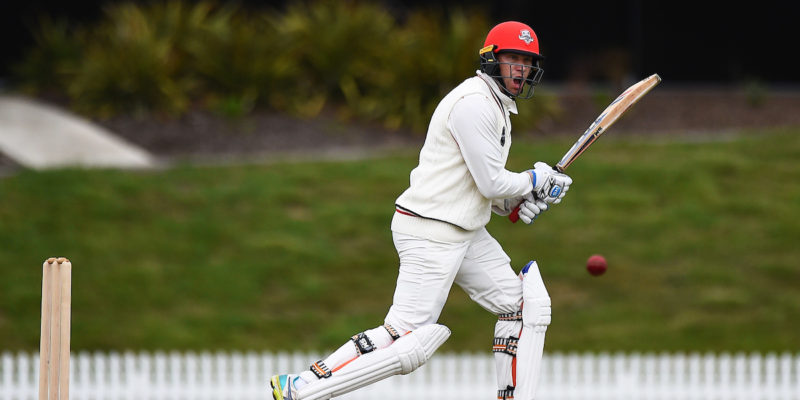 DAY THREE
Queen's Park, Invercargill proved a happy hunting ground for the Otago Volts who sealed their first win of the first-class season with more than a day to spare.
Rapidly improving their white-ball game but with first-class wins still few and far between, the victory was one to savour for captain Jacob Duffy, in his Southland home territory.
Beating Canterbury by 62 runs with an ocean of time to spare, the win also pushed the Volts into interim fourth on the table (pending the result of the ND-Aces match in Auckland) after the Volts dismissed their southern neighbours for 240 in the last session of the third day.
Pace duo Duffy (4-46) and Michael Rae (4-75) had a strong influence over proceedings,  Rae having had Canterbury number four Ken McClure – coming off a big hundred in the previous game – caught on a gutting 98 as the visitors began to feel the pressure of lost wickets.
The Volts kept attacking as Canterbury tried to cling on, havnig been in a position to snatch the outright themselves if they could just keep going. The finishing tape proved too far despite a gutsy 38 from number 10 Andrew Hazeldine.
Excited by that winning feeling, the Volts now head back to Dunedin to host the Central Stags who will be stinging from their concurrent loss to the Firebirds and looking to bounce back against a side they've traditionally dominated in recent years. The Volts will have alternate plans: the question now, can Duffy's men back up?
DAY TWO
Midway through their southern rumble with Canterbury, the Otago Volts had a chance of chalking up their first outright win of the season after having rolled their visitors for just 145 in 58.1 overs.
Cam Fletcher's 32 was Canterbury's modest top score after wickets tumbled in swift succession, captain Duffy and Rae picking up one-day-style figures of 3-30 and 3-33 respectively – and consistent Michael Rippon's brace keeping the doughty duo Jack Boyle and Leo Carter in check.
They were key wickets in a tough round, yet by stumps the game had moved right along.
No fewer than 16 wickets would fall in one day and the Volts were seven down in their second innings for an overnight overall lead of 284.
Rippon, with the Volts' meagre top score of 21*, and Duffy (17*) would resume on the third morning looking to hang around long enough to be able to set some terms, with two days' play in hand.
DAY ONE
Earlier this summer, Nathan Smith and Michael Rippon set a new Otago Volts first-class record for the seventh wicket with a 190-stand against ND in Dunedin.
Today they joined forces again for a 142-stand against Canterbury in Invercargill to dig their side out of a ditch at 96 for six — and this after captain Jacob Duffy had elected to bat.
Smith departed at 238 for seven, both men top-scoring with 78 after Canterbury's strikemen Matt Henry (4-88) and Fraser Sheat (3-50) had helped get their hosts in a large spot of bother: six down by lunchtime.
Canterbury reached 20/1 in reply by the end of the day, Chad Bowes regretting shouldering ams to Duffy just before stumps with the Volts' first-innings lead 267 heading into tomorrow's day two at Queen's Park.