23 December 2020
Under 19s win national tournament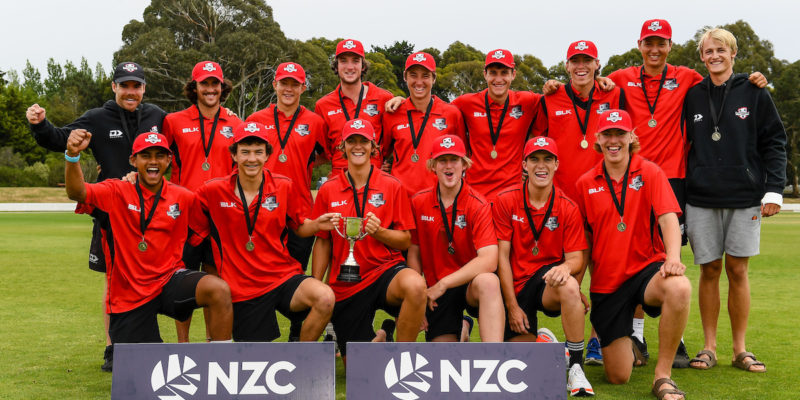 For the first time since 2015, Canterbury have walked away champs from the men under 19's national tournament.
Round 1 – 50 over v Auckland
Two tight finishes got the 2020/21 edition of the national youth one-dayers off to an exciting start with Central Districts, Northern Districts and Canterbury all taking opening round wins.
Canterbury defeated Auckland by just eight runs in a hotly contested match on Lincoln Green.
Sent in, Canterbury's NZ U19 rep Rhys Mariu got off to a flier, then put on 45 for the second wicket with Nic Lidstone before being bowled by yet another U19 World Cup veteran in legspinner Adithya Ashok on 54.
Lidstone carried on the momentum in a 64-stand with Jesse Frew to guide the hosts to the midpoint of the innings but Ashok (2-51), captain Nikith Perera (2-40) and Yahya Zeb (3-37 off 5.4) fought back with regular late wickets to bowl the side out for 235 with a handful of overs to spare.
Auckland got off to a tough start in reply losing both openers early as Harry McMillan struck twice. McMillan opened the bowling with the tall Angus Sidey, the stat of the Gillette Cup one week earlier in Lincoln as Christchurch Boys' High dominated every match.
Sidey went for a tidy 28 off his 10 overs, including two maidens and played a significant role in keeping thr pressure on Auckland. It was Sidey who removed their number four, Jock McKenzie, on 70 in the 33rd over with the match in the balance.
The Canterbury attack was still under pressure at the death, but two wickets off Frew's last over left the Aucklanders nine down and just out of reach, losing by eight runs.
Round 2 – 50 over v Wellington
Wellington's 83-run win over Canterbury on Lincoln No.3 started with the capital side winning the toss and batting first, putting up a total of 211 for seven in their 50.
It was a cautious affair to begin with, but a nicely paced innings on the small ground with opening batsman Caleb Montague (62 off 90) and first drop Tim Robinson (68 off 86) putting on 86 for the second wicket.
Sheahan was the most successful of the Canterbury attack with his 3-26 off 10, a cluster of wickets falling towards the death, and Jesse Frew was as busy as ever with 1-18 off his six and a couple of catches – but it would prove a little to late for the local men.
Canterbury just didn't get going in their reply, the wickets shared around the Wellington attack before a big victory was cemented in just the 33rd over.
Round 3 – 50 over v Central Districts
The CD-Canterbury contest on sunny Bert Sutcliffe Oval was the closest result of the day, Canterbury scraping in by just one wicket after the former outright leaders got them nine down with seven balls left in the match and four runs still required.
CD captain Sebastian Lauderdale-Smith had elected to bat first, and produced his second half century in two days at first drop.
Once again CD showed it could bat deep with Tom Sutherland (an unbeaten 41* at eight) and Jordie Gard (50 off 45 at nine) boosting the back end of the innings, but CD's problem was too many of their top batsmen went missing.
Tall young paceman Gus Sidey meanwhile continue his rhythmic reign, claiming 3-21 off his 10 today while Harry McMillan and Zak Foulkes picked up a brace each as they restricted CD to 221 for eight.
In reply, Sutherland and Gard both took an early wicket but two Canterbury pedigree scions in Matt Boyle (33) and Jesse Frew (69) kept Canterbury moving in the right direction.
Frew put on 78 with Foulkes for the fourth wicket before the hosts steadily increased their run rate across the back 15 overs, just enough to squeak home in time. The end of the game was cemented by a rare event with an overthrow hitting the keeper's helmet, resulting in six runs for a tight Canterbury win.
Round 4 – 50 over v ND (reduced to 25 due to rain) 
Canterbury continued its escalation up the ladder, this time at ND's expense. NZ Under 19 star Rhys Mariu (an explosive 71 off just 45 balls on Lincoln Green) and Matt Boyle (51 off 23) providing a ballistic start to ensure Canterbury chased down ND's 197 for nine after ND had elected to bat.
With the ball lost into the bushes, they made it easy for Nic Lidstone (37 off 30) and Jesse Frew (27 not out off 11) to continue that momentum to the finish line. Earlier, Zak Foulkes had done the job for Canterbury with the ball picking up 3-34 as they came close to dismissing ND in the nervy reduced overs first innings. Number four bat Jacob Parker top-scored for ND with 41 off 33 before he was bowled by Mariu, while Payton Spencer contributed a quick 31 down the order then took 2-38 with the ball to no avail.
Round 5 – T20 v Otago
Otago would be left to continue to search for a first win after their tough tourney continued, Canterbury winning by 87 runs to keep their campaign on track. Dangerous Rhys Mariu got Canterbury out of the blocks early with 49 off 26 on Lincoln No.3 before he hit his wicket to miss out on a 50, ending a 90-stand with Matt Boyle (31). After they fell in swift succession, Nic Lidstone took over with 35 off 26 to ensure Canterbury kept heading in the right direction and, although Otago fought back with wickets, all the Canterbury batsmen played aggressively to keep the run rate fat.
They set Otago a big chase of 211 which was too much for the southerners after NZ Under 19 rep Beckham Wheeler-Greenhall was run out at the top by Jesse Frew for a 22-ball 27. Wheeler Greenhall had punched three sixes, but as Canterbury gathered quick wickets, Otago went into their shells until a fighting run a ball 33 from Jed Mockford at six. Harry McMillan (2/28) and Will Anderson (2/19) did the damage as Otago was restricted to 123/9 to finish a long way short, Canterbury winning by 87.
Round 6 – T20 v Auckland
Canterbury meanwhile beat Auckland by three wickets, which saw Canterbury assume the lead, two points ahead of Wellington with one three-point match to go. All on!
A big clash, and it started with Auckland electing to bat and putting up 155 for five on No.3. Bevon John-Jacobs continued his good form from the first game of the day with 42 off 39, but was stumped before he got a second fifty.
He and Abbas put on 59 for the opening stand, before a flurry of wickets – Jesse Frew again showing what a dangerous fielder he can be – pushed Auckland back to a less favourable position at 109 for five in the 17th. A good rally got them up to 155 with brutal Jock McKenzie plundering an unbeaten 46* off just 22 balls, with four sixes and two boundaries on the small ground.
Rhys Mariu again got Canterbury off to a sound start with 74 off 49 balls at the top, keeping things in control until his dismissal in the 16th at 137 for five. Auckland still had their chances, Nikith Perera grabbing two late wickets, but Canterbury ultimately got home with ease with five balls in hand.
Round 7 – T20 v ND