03 June 2020
THE WORLD IS INVITED TO CELEBRATE WITH CANTERBURY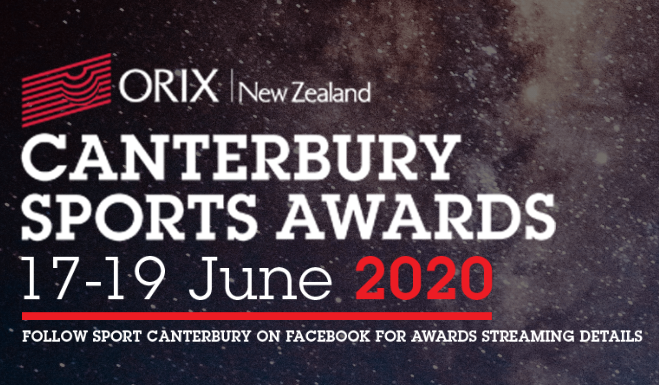 Each year Sport Canterbury celebrates the outstanding dedication of our region's sportspeople, coaches, officials, administrators and volunteers.
In Christchurch, Ashburton and Timaru, the events have become very special occasions for our sporting community – the only time each year we come together to celebrate success, from the grass roots to elite levels of performance. Across all categories, the nominees represent the "best of the best" – in their sport, in our community, across New Zealand, and often on top of the world.
New Format in 2020 –
"The World is Invited to Celebrate with Canterbury"
The scheduling of the 2020 ORIX New Zealand Canterbury Sports Awards, Trust Aoraki South Canterbury Sports Awards and The Ashburton Guardian Mid Canterbury Sports Awards has been impacted by the COVID-19 pandemic. As a result, the format of all three events has changed to being delivered on-line, via streaming in social media.
These circumstances, however, do not in any way detract from the success and dedication of our nominees over the past sporting year. In fact we are encouraged to reflect on our regional pride, and the way our own communities, and their renowned sporting culture, often earn international attention.
All nominees and finalists hold a special place in the sporting history of our communities. In many cases they inspire and create opportunities for our tamariki, influencing the next generation and certainly having an impact on the way that Canterbury sport is regarded on the world stage.
For this reason, our plans to honour every nominee, finalist and Award recipient will continue.
Through Sport Canterbury's social media channels, our communities can be part of this sporting tradition, and join a very special occasion from anywhere in the world, as we announce finalists and interview winners across all categories and regions (Canterbury, Mid and South Canterbury).
8-10 June – Trust Aoraki South Canterbury Sports Awards
10-12 June – The Ashburton Guardian Mid Canterbury Sports Awards
17-19 June – ORIX New Zealand Canterbury Sports Awards
All three events will be streamed by We Are Canterbury on Facebook. The profiles of South Canterbury nominees will be published in the Timaru Courier on Thursday 4 June, with Mid Canterbury nominees featured in the Ashburton Guardian on Saturday 6 June.​​​​​​​
To our sports, nominees, communities and generous sponsors – we thank you for your patience. In these challenging times, your commitment to sport in Canterbury has remained constant. We look forward to celebrating your success and commitment, as part of this special occasion.
The nominees representing cricket are:
Canterbury Office Furniture Outstanding Administrator of the Year – Ken Lomax
Christchurch City Council Outstanding Sports Club of the Year – Lancaster Park Cricket Club
Lincoln University Outstanding Junior Sports Team of the Year – St Andrew's College 1st XI
AECOM Outstanding Young Sportsman of the Year – Nic Lidstone