06 April 2021
The Plunket Shield is coming home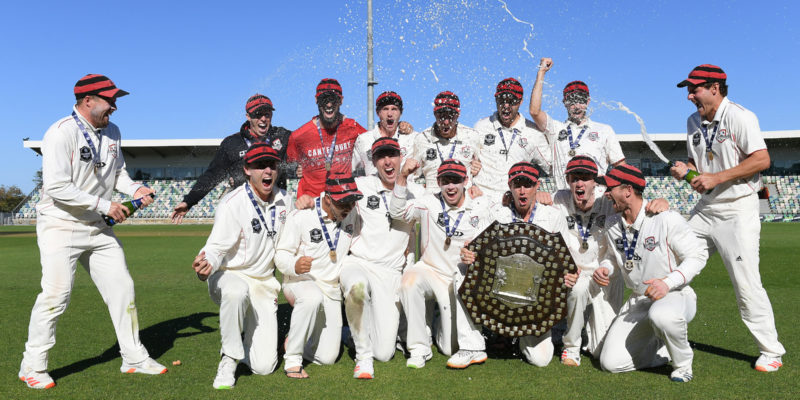 DAY FOUR
Having resumed the final day two down and in arrears, the Central Stags batsmen showed determination as they inched their way forward into an overall lead on a placid deck.
Ben Smith added 47 to his first-innings century while Dane Cleaver finished with an unbeaten half century before the two sides shook hands after tea, with the Stags still just five wickets down, having reached 299/5.
Canterbury was then presented with the Plunket Shield – finishing their strong season unbeaten after five wins and three draws.
Will Williams finished as the summer's top wicket-taker for the first time in his career, closely followed by Otago's Michael Rae and Canterbury teammate Fraser Sheat.
DAY THREE
After a night on 93* in just his second Plunket Shield appearance, Canterbury's Harry Chamberlain patiently kept his teammate on tenterhooks for more than an hour of the third morning before reaching his maiden first-class century – off 218 balls, in 303 minutes (15×4, 1×6).
Chamberlain's composure had been key after the loss of overnight partner Cam Fletcher who was dismissed by Blair Tickner off just the second ball of an overcast first session at McLean Park.
Theo van Woerkom had provided the support at the other end for Chamberlain en route to his landmark hundred, the pair putting on 25 for the sixth wicket before Brad Schmulian picked up his first victim with van Woerkom caught at 348/6.
View this post on Instagram

The Stags had been a long time in the dirt now, sweating on a warm couple of days as a nor'wester zephyred over the park, trying to halt a team that would eventually almost double their own first innings total. But Tickner's early breakthough was the start of a big effort from the big paceman who bowled through a sore hip to pick up another three wickets – and his third five-wicket bag (5-80).
The Stags had three by lunch, Matt Henry having falled to Schmulian (2-38) as well; but Chamberlain was still motoring for Canterbury with his innings having reached 127*.
He would add just a further five runs after the break before Tickner trapped him for his third wicket of the innings, before having tailenders Will Williams and Fraser Sheat caught off successive overs to land his hard-won bag and stop the Canterbury innings at 391.
The Stags were left with a first-innings deficit of 184, and George Worker and Greg Hay made a good start to putting a dent in it by guiding their side to 68 without loss by tea.
Worker went on to a half century after the break, but Hay (44) became the first departure when he shouldered arms to Matt Henry only to hear his bails dislodged behind him.
Worker, too, would be gone before bad light ended play an hour early – squirting a return catch to spinner Theo van Woerkom on 64 as both openers finished their work for the season. Ben Smith (9*) and Brad Schmulian (7*) would head into the final morning of the summer with a big job ahead if they were to keep Canterbury from finishing with a bang.
DAY TWO
In just his second first-class match for Canterbury, Harry Chamberlain is in for a night when a few thoughts may cross his mind. That's because he has gone to stumps sitting on 93 not out.
Chamberlain reached his maiden first-class half century after tea on the second day in Napier, batting alongside Cam Fletcher (52*) who reached his own half ton shortly before stumps.
The pair have put on 123* for the fifth wicket so far, batting together since the fall of Cole McConchie at 179/4 in the middle session and carrying on to stumps, by which time they had pushed Canterbury into a 95-run lead with six wickets still in the bank.
Earlier, the Stags' leading wicket-taker of the first-class season Ray Toole chipped out a couple of useful wickets in BLACKCAPS Tom Latham (trapped on 19) and Henry Nicholls (caught on 37) and will begin day three toiling away in an unseasonally warm nor'wester with 2-43.
DAY ONE
Canterbury once again headed into a match with the title already in the bag and under little pressure as Tom Latham, Matt Henry and Henry Nicholls stepped back into the side for the last fixture of the season.
For the Stags, this match was meanwhile a chance to become the only side to beat Canterbury – and exact some revenge from their loss to the red and blacks in Rangiora.
Not every team plays each other twice these days in the Plunket Shield, but here was an opportunity not to be missed – but it didn't start well for struggling Central.
Having been sent in, veterans Greg Hay and George Worker made a gritty, cautious start with just 17 runs on the board in the first hour – before wicket-taker Will Williams took them both out in the blink of an eye.
That set the tone for most of the Stags' batting line-up, with the exception of first drop Ben Smith who survived for the rest of the innings – and almost the day – as he led a much-needed recovery with his sixth first-class hundred. It was a timely knock: his first Plunket Shield century in five years, finishing unbeaten on 111* after 300 minutes at the crease.
He had glimpses of support as the middle order attempted to occupy and build a partnership. But it wasn't until number 10 Blair Tickner – who equalled his Plunket Shield career best of 27 – and last man Ray Toole – who batted for almost three quarters of an hour – hung around long enough that Smith not only reached a half century, but broke triple figures.
And that ensured that their side became a prospect for chalking up at least one batting bonus point.
Determined Tickner had batted for 85 minutes, facing 76 balls before he misguidedly shouldered arms to Matt Henry – his 65-run stand with Smith for the ninth wicket the largest partnership of the innings, before Toole helped add a further 37 in the last-wicket stand.
Henry, Ed Nuttall and Will Williams all finished with three-fors when Toole finally fell with the score at 207 all out in the 91st over, Canterbury openers Tom Latham and Ken McClure facing three overs before stumps and set to resume at 2/0.