01 December 2020
Teaming Up for Our Tamariki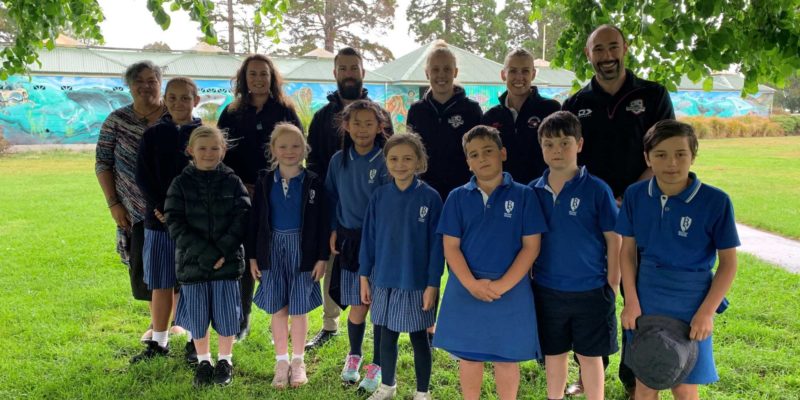 A desire to advocate for Canterbury kids in Northwest Christchurch has inspired a unique collective of community groups and sports organisations to team up and deliver new activities outside of traditional sport and recreation.
In the wake of a pandemic, in a region familiar with challenges, families face significant obstacles to keeping kids active.
Rather than rely on their traditional sport-specific models, Canterbury Hockey's Emma Hodgkin says the sports are prepared to innovate and enter into new collaborative partnerships in order to better meet the needs of communities.
Hodgkin sums up her motivation in simple terms.
"It's about us recognising, that as the organisations governing our individual sports in our region, that we have an obligation past delivering formal competitions – to provide opportunities for all young people to keep active."
In a new collaborative initiative, a range of regional sports organisations including Canterbury Hockey, Canterbury Cricket, Squash Canterbury and Touch Canterbury have teamed up with the NorthWest Collective, compromising of nine community entities to develop and deliver a new initiative – Kia Kori Waitaha –   Being Active Locally.
This initiative will see Participation Activators appointed who will work under the umbrella of Canterbury Cricket Association to co-design and deliver programmes through the community trusts and entities already working with tamariki and rangatahi in the places where they congregate and participate locally and in their own neighbourhoods.
"The NorthWest Collective has been successfully working together since 2013, sharing resources, knowledge and skills. The opportunity to collaborate even more and with a different sector to support our grass roots community work, really just made sense. We see every day the need to get our tamariki back out playing and more importantly encouraging mums and dads to get involved as well. We bring our experience of different groups working together to this great initiative" says Lynda Goodrick, Belfast Community Network General Manager.
This initiative has been talked about and in the planning phases for a long time however COVID-19 and the availability of new funding to support collaborative initiatives is what has finally made it all possible. The Sport NZ fund, known as Tū Manawa Active Aotearoa, has been a source of inspiration for play, active recreation and sporting projects in Canterbury that are committed to reaching groups at risk of missing out or being less active.
Tū Manawa means "to stand and breathe," describing the moment many people of all ages experience before engaging in sport or activity – the moment of anticipation for the physical and mental benefits that being active bestows on the participant.
Canterbury Cricket's Simon Hill has been helping drive the collaboration. "Canterbury sports recognise that great things happen when they team up. We have a common hope – for a brighter future for our children."
The activities will not be sport-specific, however they may provide pathways into sport for young people who wish to pursue it further.
Sport Canterbury's Chief Executive Julyan Falloon supports the vision behind the project.
"We don't know anyone else across New Zealand in active recreation or sport, showing leadership in this way." It is also exciting times for Canterbury Touch and Squash Canterbury who are also key partners in this initiative;
"We've got our eye on the same game, of simply keeping kids engaged and moving, but we recognise that we aren't always best placed to access those young people who need these opportunities the most," says Squash Canterbury CEO, Kristy Havill.
Shane Bowden, Regional Development Manager for Touch Canterbury, agrees.
"By opening our minds and adapting our offering in the community, we believe we can play a part in a different future.
"It's a win if we can help these young people develop a lifelong love of being active."