09 December 2019
St Andrew's Lift National Title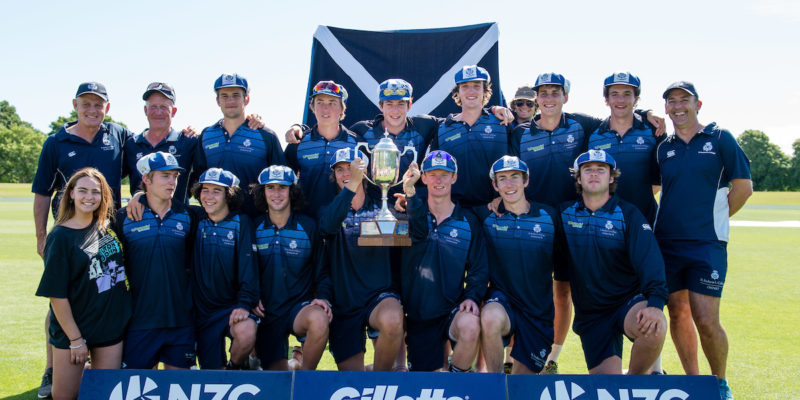 St Andrew's College made history at Hagley Park by winning the country's top prize in secondary school cricket for the first time.
In their first appearance at the tournament, St Andrew's dominated most of the week, only suffering a loss to Lindisfarne in the fourth round, but the slip up didn't cost them too much, with a win in the final round against Hamilton Boys High School being enough to secure the title.
In the final, Hamilton Boys won the toss and elected to bowl first. St Andrew's took full advantage of the wicket, with openers, Rhys Mariu (89) and Harrison Darling (76) putting on 142 for the first wicket. St Andrew's were precariously placed at 210-4 with 8 overs to go but some late innings striking from Ben Innes (19 off 11), Etinne Harrington Watt (10 off 6) and Jordy Frew (15 off 11) got St Andrew's through to 276/8 off the 50 overs.
In reply, Hamilton Boys never really got going due to some tight St Andrew's bowling. Zak Foulkes took 2-9 whilst Thomas McKay bagged figures of 3-12 of 5 overs before Hamilton were all out for 102.
The moment St Andrew's captured the win was extra special for coach Mike Johnston, who has been with the first XI for close to two decades.
"It's been an amazing journey this year with these boys. It's been 18 years since I've been coaching St Andrew's, it's the first time we've been here and we've won it. We've just got a great team culture and they've worked for each other," said Johnston.
Throughout the week there were several standout performances.
Zak Foulkes, Rhys Mariu and Jesse Frew all scored hundreds, whilst Jordy Frew finished the tournament joint top wicket-taker, with 10 wickets.