11 August 2020
SPOTLIGHT ON: GO MEDIA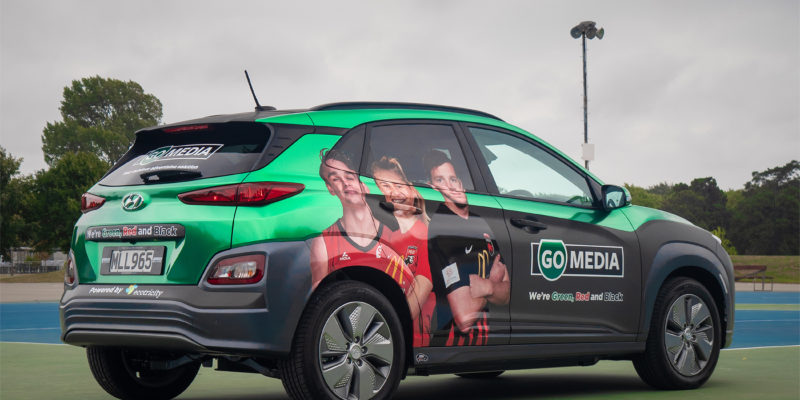 Go Media backs New Zealand and New Zealanders like no other.
A lover of all sports, Go Media partner nationally with NZ Football, Netball NZ, NZ Basketball and NZ Special Olympics. In Canterbury, they're red, black (and green) partnering with the Crusaders, Tactix, Dragons & Pride, Rams, and of course the Canterbury KINGS and MAGICIANS.
Go Media is the largest New Zealand owned and operated large format outdoor advertising company with bus advertising, static and digital billboards spanning the length of the country. Founded by Mike Gray, the company has been operating for the past 20 years although the Go Media brand is relatively new, created in 2016. Mike left Christchurch after the 2011 earthquake destroyed his home in Redcliffs, and has resided on Waiheke Island ever since. As the company has expanded nationally it has made sense for him to continue to be based in Auckland. Ever committed to the Canterbury region, Go Media has six staff based in Christchurch and they have just moved into new offices in Bealey Ave.
Go Media has been a sponsor of Canterbury Cricket since 2016 and in December 2019 partnered with Ara to underwrite the gate to provide Free Entry to a double-header Super Smash game at Hagley Oval. As a result of Go Media marketing the event, the game attracted the largest ever crowd for a women's game and the second largest for the men at Hagley Oval.
Managing Director of Go Media, Mike Gray is all about locals supporting locals.
"Supporting New Zealand communities and sports teams differentiates us from our foreign-owned competitors."
"In this post COVID-19 environment, we really hope this support for New Zealand will resonate with other New Zealand companies to support local and support NZ owned."
For more information about Go Media and how they can help your business, visit www.gomedia.co.nz/