12 October 2020
Social Sixes return to Christchurch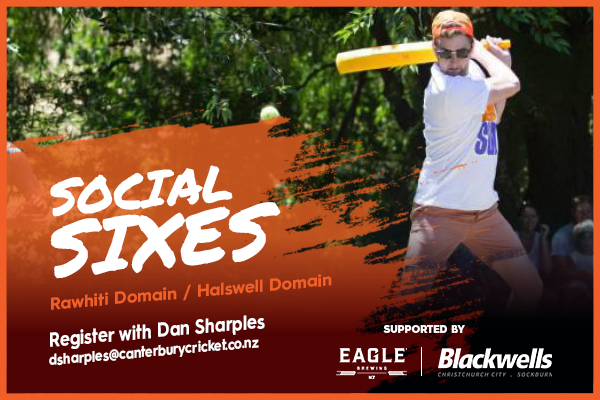 Social, enjoyable, six-a-side cricket that's all over in around 90 minutes!
Held over 6 weeks at two locations, on either a Monday or Wednesday night, all you need to do is find a group of 6 mates and rock up! All the gear is provided.
A fantastic way to enjoy a summer evening playing our summer game. Open to all ages and abilities!
If you want to play or have any questions, click register below. Be sure to include your team name and what venue you want to play at.
Halswell Domain
Monday 2nd, 9th, 16th, 23rd, 30th Nov & 7th Dec.
6pm

Rawhiti Domain
Wednesday 4th, 11th, 18th, 25th Nov & 2nd, 9th of Dec.
6pm
Price: $240 per team
Rules
Players
6 players per side but each team can have a maximum of 10 players, with only 6 people allowed to bat and 6 allowed to bowl
Each player bowls 2 overs per innings
Each batting pair bats for 4 overs with the aim to face 12 balls each
Batting innings consists of 12 overs, with 4 over per batting pair.
Maximum 6 balls per over, but in the last over 6 legitimate balls must be bowled
Equipment
Soft kiwi-cricket style ball (provided)
Plastic bats (provided)
The field
Boundary set out in a oval, approximately 35m from wickets
Pitch length is approximately 16 metres
Maximum of a 3 pace run up for bowlers
Wide lines approx. 1.5m either side, to be marked with cones.
Bowler, keeper and two fielders on each side
Dismissals
Loss of 3 runs if a player gets out
Bowled, Run out, Stumped and Caught
Runs
1-6 runs as per normal cricket rules
No balls and wides are 2 runs plus any others scored off the bat