08 December 2021
Sir Richard Hadlee Community Appeal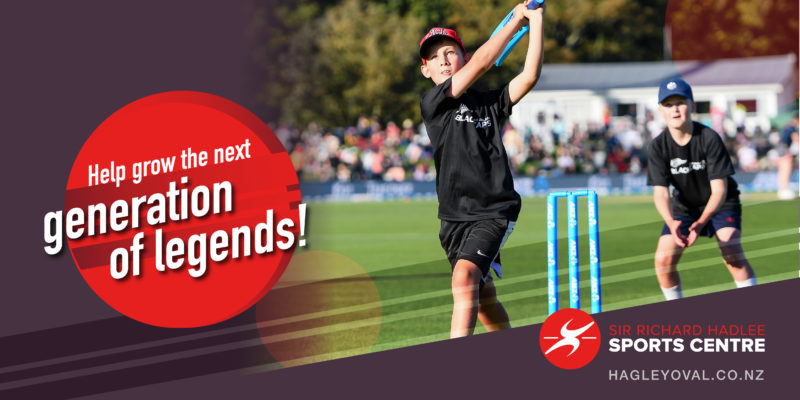 Get behind our new community appeal and help "grow the next generation of legends". Make a donation today towards the Sir Richard Hadlee Sports Centre!
A new appeal for donations to help meet the $1.6M shortfall towards the total $5 million cost of the Sir Richard Hadlee Sports Centre has been launched by the Canterbury Cricket Trust (CCT), in partnership with the team here at Canterbury Cricket (CCA)
The Sir Richard Hadlee Sports Centre, the final piece of the cricket precinct at Hagley Park, is set to be completed in February 2022 and open in time for the ICC Women's Cricket World Cup in March.
Sir Richard Hadlee, whose trust has donated $800,000 to the project, is honoured the centre bears his name, saying it's a wonderful legacy that will benefit thousands. He's urging everyone to chip in what they can via the Hagley Oval website.
The Centre will provide world-class indoor facilities in the heart of Christchurch for the first time since the earthquakes, that schools and community groups will be able to use to grow the next generation of cricketing legends, following in Sir Richard's footsteps.
Thousands of aspiring young sports people will benefit from the facilities to grow their skills and love of sport right alongside professional cricketers who will also use the facility for training, without needing to travel outside of Christchurch.
The centre will also be used by other sporting codes such as hockey, indoor football, and netball.
Cricket is part of the fabric of Canterbury and the Sir Richard Hadlee Sports Centre will be one of the best training facilities in the country for our young people.
Be part of the future of cricket for our community and help grow the next generation of legends
We urgently need the help of the Canterbury community and supporters around New Zealand to raise the
remaining money needed before construction is completed.
To make a donation, please visit the Canterbury Cricket Trust donations page or contact us directly if you would like to discuss your contribution.
Contact:
Sarah Barrer
sarah@barrer.co.nz
027 544 9977