24 December 2018
Several tennis balls harmed at BK Super Smash launch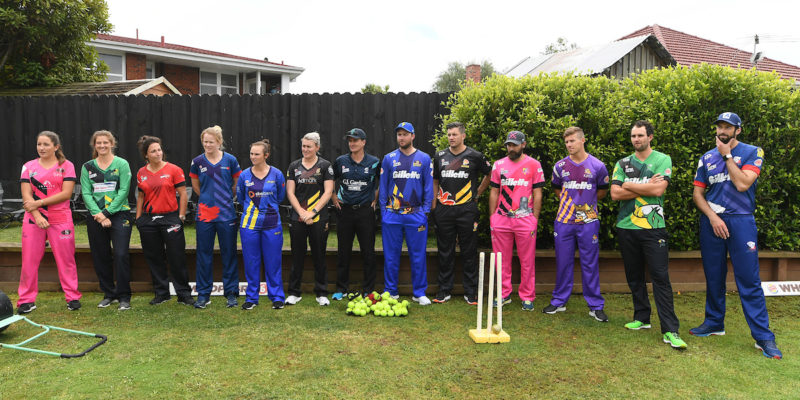 Back Yard Cricket's 'Six and out' rule went out the window as Burger King Super Smash stars hit balls to all parts of suburban Auckland this afternoon, to start the Twenty20 season in style.
"It's every kids' dream to have a bag of tennis balls to hit out of a small back yard – but maybe not the neighbours! I think they got a peppering today," said Central Stags skipper Tom Bruce.
Male and female cricketers from all six domestic teams shared the back yard arena, as they prepare to play 16 men's and women's double-header matches in this year's BK Super Smash.
"There were a few sixes hit, and a few Whoppers, so we're hoping for more of that in the first round!" said Otago Sparks skipper Katey Martin. "It was a bit nerve-wracking facing Hamish Bennett with his height and pace, but I sent him out over the fence, I'll take that!"
The T20 season resumes on Saturday with a Spirit v Blaze and Knights v Firebirds double-header in Hamilton, with matches most days through the holiday period, before the women's final on 20 January and the men's on 17 February.
"The whole atmosphere, having both the teams there is great, as well as getting some good crowds down to see us," said the Northern Spirit's Felicity Leydon-Davis. "It's great to be seen as one association and play alongside each other, it creates a really good atmosphere. I'm really looking forward to playing at my home ground Seddon Park, that's really exciting as well."
"The double-headers are a great initiative, and a positive step for New Zealand and women's cricket. It's really good they can get exposure for their Twenty20 game, it's just awesome for cricket," said Tom Bruce.
Don't miss the excitement of Super Smash this summer – Buy Kings tickets here!