18 December 2020
Satterthwaite & Tahuhu return for MAGICIANS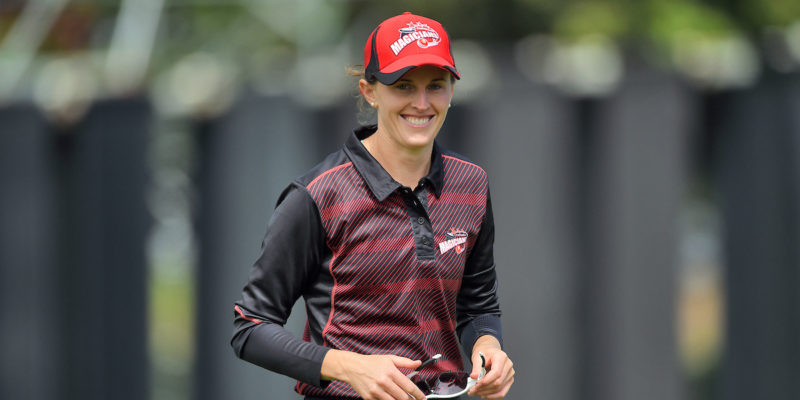 WHITE FERNS stars Amy Satterthwaite and Lea Tahuhu are set to make their much-anticipated return to the red & black this weekend when the MAGICIANS host the Blaze at Hagley Oval.
The couple have recently returned from across the ditch where they've been juggling both cricket and motherhood for the past 3-months representing the WHITE FERNS and more recently the Melbourne Renegades in the WBBL.
Satterthwaite said she's glad to be home and out of quarantine.
"It's nice to have some freedom and to be back in a familiar place.
"I'm really excited to be back. I've loved my time playing for the MAGICIANS over the years and to think that I get another opportunity is really exciting."
MAGICIANS coach Rhys Morgan said the pair bring valuable experience and knowledge to the team.
"They're both quality players and it's been great having them around the team at training.
"They bring a wealth of experience and they're giving their time and their knowledge to the younger players which is amazing."
The MAGICIANS are currently undefeated for the 2020/21 season sitting pretty at the top of the Hallyburton Johnstone Shield with four wins from four matches.
"It's been a great start to the season so far," Morgan said.
"Everyone is happy with where they're at, both individually and as a team".
Canterbury will be without the competitions leading wicket taker, Jacinta Savage as she recovers from a minor quad tear. She is hopeful for a return on round 1 of the Dream 11 Super Smash on the 29th of December.
Play gets underway from 10:00am at Hagley Oval on Saturday & Sunday.
Canterbury MAGICIANS Squad
Hallyburton Johnstone Shield Rounds Five & Six
19 & 20 Dec 2020
Frankie Mackay (c)
Sarah Asmussen
Missy Banks
Nat Cox
Kate Ebrahim
Georgia Edge
Emma Kench
Laura Hughes (wk)
Allie Mace-Cochrane
Kirsty Nation
Amy Satterthwaite
Jess Simmons
Kate Sims
Gabby Sullivan
Lea Tahuhu