16 March 2021
RIVALS MEET AGAIN IN 2021 NATIONAL FINAL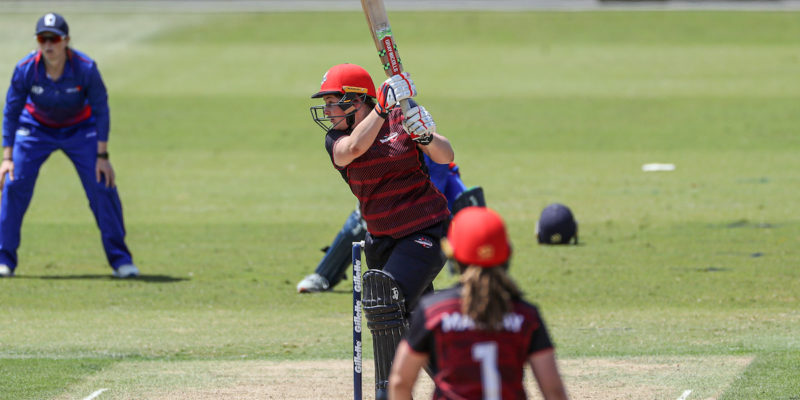 Canterbury Magicians captain Frankie Mackay is aiming to lead her team to a second national trophy this season when the Dream11 Super Smash (T20) champions look to add the one-day Hallyburton Johnstone Shield to Canterbury's trophy cabinet.
As the New Zealand Domestic season reaches its crescendo, that cabinet is already well stocked with Canterbury's men's team having lifted The Ford Trophy – the male equivalent of the Hallyburton Johnstone Shield; while the Canterbury men are also the runaway leaders with just three rounds to go in the first-class Plunket Shield championship.
Auckland Hearts captain Lauren Down is out to stop the Canterbury double act with the two veteran captains leading the way at the top of the order for their respective teams – and both ranked among the top four run-scorers this season.
Down will head into a home Grand Final (hosted by second qualifier Auckland after Canterbury ceded the hosting rights) with 332 runs from eight innings, including an unbeaten 104* against Wellington Blaze in Wellington last month, and two half centuries for a batting average of 47.42.
Mackay also heads in with a century and two half tons from the regular season, her best this summer an outstanding 142 in which she batted into the 48th over against the Otago Sparks in Oamaru in November, and she will bring with her a season average of 45.12 to Eden Park Outer Oval after 361 runs from eight innings. Mackay holds the all-time Canterbury Magicians record for most Hallyburton Johnstone Shield centuries with 13 – almost twice as many as the next on that list, fellow WHITE FERN Amy Satterthwaite with seven.
Satterthwaite only just missed out on making that eight centuries in Sunday's narrow 10-run loss to the Hearts at the Outer Oval that squeaked the Auckland Hearts into this year's Grand Final, setting up a potential title defence for Auckland. First-drop Satterthwaite had reached a run-a-ball 96 in the run chase before she was bowled by Jesse Prasad off the penultimate ball of the match.
Having lost the previous day's ninth round to the Magicians by 24 runs at the same venue, the Auckland Hearts had needed to win if they were to make this year's Final – the result knocking out the Central Hinds who missed qualification by just one point and finish in third spot after a loss and a win against Northern Spirit at Pukekura Park on the weekend.
A calm and consistent anchorwoman for her side, Down's 75 on Sunday – before she was bowled by rival Mackay – saw her overtake Maddy Green for sixth spot on Auckland's list of all-time List A runscorers, with a career haul of 1,847 runs. Mackay meanwhile broke another New Zealand Domestic List A record in the match with her fourth five-wicket bag.
The spinning allrounder already owns a slew of Canterbury Magicians one-day records, including most wickets. Sunday's bag saw her go to a career haul of 154, becoming the first woman to reach 150 for her side and just the second to break that milestone in New Zealand history.
Mackay also has the most career runs for her side with 4,694, eclipsing the stellar Satterthwaite on both those lists. With 14 victims at 16.85, Mackay is one of the top wicket-takers this season – along with the Hearts' dangerous Prasad who has 14 at 13.28.
Sunday's 2021 Grand Final will be free admission, the first ball at 10.00am and the toss to be made at 9.30am. Canterbury and Auckland will name their Grand Final squads by noon, Saturday 20 March.
The match will be live-scored and live-streamed at www.nzc.nz and on the NZC app. Top qualifier Canterbury ceded hosting rights to Auckland due to the unavailability of home grounds Hagley Oval (BLACKCAPS ODI v Bangladesh) and Mainpower Oval (Plunket Shield Canterbury v Central Stags) this weekend.
POINTS after completion of 2020/21 regular season
Canterbury Magicians 33 (NRR 0.96) Q
Auckland Hearts 33 (NRR -0.12) Q
___________________________
Central Hinds 32 (NRR 0.87)
Northern Districts 24 (NRR 0.16)
Wellington Blaze 19 (NRR -0.17)
Otago Sparks 0 (NRR -1.98)