28 June 2019
Rhys Mariu and Jesse Frew named in U19s for Australia Tour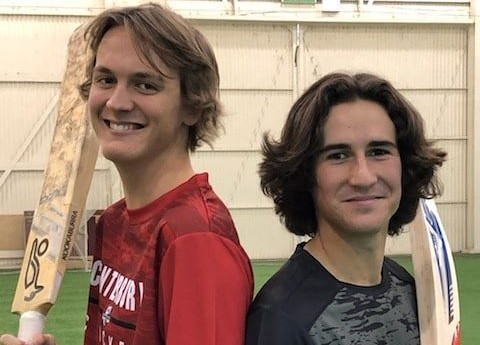 Rising Canterbury Cricket stars Rhys Mariu and Jesse Frew will have the chance to represent New Zealand later this month in a Trans-Tasman one-day series against the Aussies.
Canterbury would have likely had two additional representatives, but injuries for Nick Lidstone and Angus Sidey meant they weren't considered for the playing 15.
Mariu, a right-arm leg spinner from St Andrew's College played for the inaugural NZ Maori Schools cricket team against the Governor General's XI in Wellington in March where he scored 36 runs while also picking up the prized wicket of former International cricketer Hamish Marshall on 99.
Frew, son of former WHITEFERN Lisa Astle and Canterbury Country legend Robbie Frew and let's not forget nephew of former BLACKCAP Nathan Astle will carry on his strong cricket roots to represent his family on the big stage. Jesse was also recently named Under 17s Batsman of the year at the Canterbury Cricket awards.
Canterbury Cricket's Performance Pathways Manager, Dion Ebrahim, said "It's an exciting opportunity for these two young men to get the experience of playing Aussie U19 in Aussie. The experience will open up some great learning moments through the tour which I know both boys will grab with both hands and use smartly as they continue on their cricketing journey. We look forward to seeing how they progress and working with them when they return".
The squad, to be programme lead by ex Canterbury Cricketer Paul Wiseman, will play four one-day games against the Aussies at Peter Burge Oval, Redlands Cricket Club between July 6 and 12, six months before the 2020 U19 World Cup gets underway in South Africa.
New Zealand Under-19 squad: Adithya Ashok (Auckland), William Clark (Central Districts), Kristian Clarke (Northern Districts), Lucas Dasent (Auckland), Hayden Dickson (ND), Joey Field (CD), Jesse Frew (Canterbury), Ruben Love (CD), Jock McKenzie (Auckland), Rhys Mariu (Canterbury), Tim Pringle (ND), Ben Pomare (ND), Jesse Tashkoff (Wellington), Dylan Taylor (Auckland), Ollie White (ND).