16 January 2021
Record KINGS stand secures win over Knights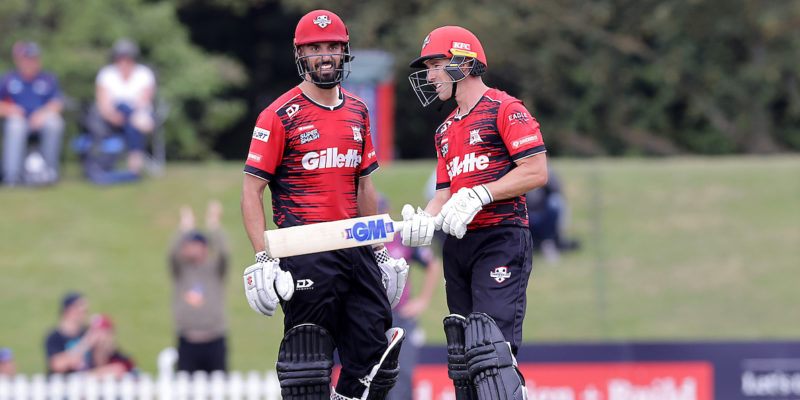 A six-wicket win sounds comfortable enough, but the Canterbury Kings were made to work for this one.
The Northern Knights won the toss and batted with Jeet Raval top-scoring in his first T20 half ton for the Knights, and fourth overall and career best T20 knock: 70 off 55 balls.
The elegant batsman reminded the crowd of his timing and touch with six boundaries and two sixes, supported by a breezy 22-ball 36 from his captain Anton Devcich.
They compensated nicely for the early loss of Tim Seifert but, bar a cameo later from Mitchell Santner, that was where it really stopped for the Knights who found themselves a little short with the batting effort at 150/7.
View this post on Instagram
Todd Astle had a big say over that, choking them with 2-12 off his four overs and stopping the heavy hitters Joe Carter and Brett Hampton.
BLACKCAP Daryl Mitchell picked up a good brace as well with 2-30, well supported by captain Cole McConchie (1-29) and as usual it was just the start of his impact on the game.
The Knights made an outstanding start to the defence of the total, Freddy Walker impressive on a tricky wicket with two wickets from his first eight balls up front.
He finished the afternoon with the prize wicket of Mitchell for 3-20, but by then Mitchell and McConchie had all but got their side home with a massive 133-stand for the fourth wicket – smashing the previous Kings record of 118* between McConchie and Leo Carter here against the same team last summer, when Mitchell was on the other side of the ledger.
The hosts had been 15/3 so it was just what the locals wanted, taking the game to 148/4 at Mitchell's fall in the 19th, by which time just three more runs were needed.
Mitchell (69 off 47) had reached his second half century in the space of three knocks for the Kings while McConchie ticked off the win with an unbeaten 56* off 48.