26 August 2021
Race Relations Commissioner Visits Christchurch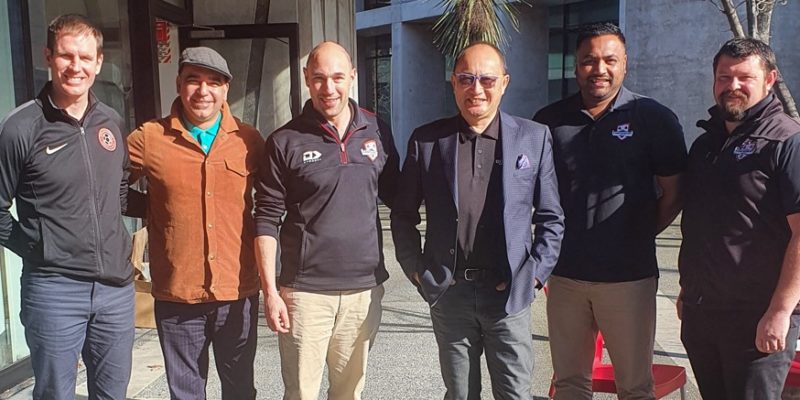 Shortly before lockdown, New Zealand Race Relations Commissioner Meng Foon visited Christchurch and met with Canterbury Cricket and Mainland Football to discuss their joint Diversity and Inclusion Strategy.
This strategy, formulated by Diversity and Inclusion Manager Hussain Hanif, aims to make cricket and football more accessible for ethnic and racial communities in Christchurch.
Hanif said, "cricket and football are such global games, but we are not seeing the racial and ethnic diversity in our playing numbers in Christchurch. By reaching out to these communities and working with local clubs, we are trying to make organised sport a more welcoming and hospitable place for these communities."
The Diversity and Inclusion Strategy started with Hanif approaching ethnic communities throughout Christchurch and building strong relationships with them on behalf of Canterbury Cricket and Mainland Football. In the coming months, Canterbury Cricket and Mainland Football will host a number of sporting hubs, with the goal of introducing children and parents from these ethnic communities to organised sport. These hubs will teach members of these ethnic communities the basics of the sporting codes, the game rules and how to get in touch with clubs to play with the wider Christchurch Community.
At the same time, Mainland Football and Canterbury Cricket will educate local clubs on how to ensure new players from diverse backgrounds are welcomed into those clubs.
Race Relations Commissioner, Meng Foon was supportive of the joint strategy, saying, "sport plays a hugely important part in creating harmonious, connected communities. I'm hoping the clubs will be receptive to players coming through from different cultures and ethnicities in Canterbury."
Meng Foon and the Human Rights Commission launched their National Action Plan Against Racism last week, something Canterbury Cricket and Mainland Football stand firmly behind. We encourage all those in the Canterbury Cricket Community to submit their thoughts on how we can work together to help make racism in New Zealand a thing of the past. To have your say – CLICK HERE