20 October 2020
Canterbury brushes aside defending champions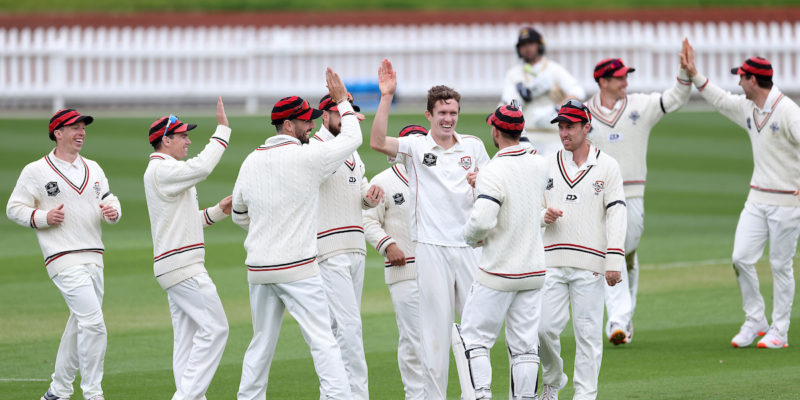 CANTERBURY v WELLINGTON FIREBIRDS (PLUNKET SHIELD ROUND 1)
DAY FOUR
Canterbury have made an emphatic start to their 2020/21 summer by cantering to an eight-wicket win over the defending champions and hosts, the Wellington Firebirds, in the opening match at the Basin.
BLACKCAP Tom Latham's 86 off 95 balls made sure of their position as the visitors chased down their target of just 122 for victory and second spot on the table, with skipper Cole McConchie smashing a six to seal the deal in style.
DAY THREE
Fast times at the Basin Reserve continued in the morning session, the Firebirds minimising the damage to their hopes by bundling Canterbury out for 156.
For both teams, the lower order had melted away at speed, a remarkable 15 scores in single digits from the two first innings.
It was Hamish Bennett who triggered the dramatic collapse on his home turf, picking up 4-28. However, after the previous day's sobering efforts with the bat, it was nevertheless a first innings lead of 91 to the visitors.
The Firebirds now had a second shot at putting some runs on the board. Despite Canterbury chipping out a wicket before lunch – Tom Latham pouching Tom Blundell in the slips off Will Williams, and a further breakthrough for the lanky right-armer after the break, Devon Conway's arrival at first drop proved influential.
Conway chalked his half century off 85 balls, anchoring his way through the next five partnerships to reach 81, again top-scoring for his side.
But again, a paucity of support cost the side. None of the partnerships were fat enough; instead, they shrunk like ever decreasing circles across the scorecard.
At eight, Logan van Beek was left fighting for time as he dug in for an unbeaten 21*, but when the final wicket fell at the other end, Canterbury was left with a target of just 122 to win.
By now the shadows were cast long over the ground, as Will Williams walked off with a spring in his step – he had finished with a handy 4-35 off 18.5, including seven maidens.
New Cantabrian Daryl Mitchell had chimed in with 4-57, including the prized wicket of Conway.
Earlier, he'd enticed Michael Bracewell to play on cheaply, and got a bonus wicket in a bizarre dismissal (bowled) of Jamie Gibson.
WICKET | That's something you don't see every day 😅

WLG 148/6

SCORECARD | https://t.co/7UQV9rdGEM#WeAreCanterbury #PlunketShield pic.twitter.com/0a0WKZ3odQ

— Canterbury Cricket (@CanterburyCrick) October 21, 2020
Latham and Chad Bowes strode out to face a tricky three overs before stumps after which both sides retreated into the remains of the day to contemplate a big fourth morning, on a result pitch.
DAY TWO
A torrid first hour saw Canterbury take eight further wickets to roll their hosts for 65: the Wellington Firebirds' lowest first-class total since 2014/15.
It meant Canterbury bagged the maximum four first innings bowling points, BLACKCAP Matt Henry claiming an impressive 4-22, including his 150th first-class dismissal.
Only four bowlers were required by his captain and no one went back in to the R.A.Vance Stand empty-handed.
Besides Devon Conway's 31, only Extras had made it into double figures in a chaotic start to the day for the hosts. Conway couldn't do it alone and, after having battled for two hours across the two days, became Daryl Mitchell's first victim for Canterbury.
From 58/4 to 65 all out in fewer than seven overs (seven wickets were lost in 51 balls, and the last eight wickets for just 14 runs), the scorer was working overtime as players passed each other in the tunnel.
Canterbury's opening pair then looked to have changed the tempo in reply, batting almost 14 overs before the Firebirds had any revenge with the ball.
It was one to write off for Tom Latham who shouldered arms to Jamie Gibson, only to hear the clink of his wicket behind him as the ball flicked the top of off.
From 23 for one, Chad Bowes (34) and Ken McClure (32) put on 56 for the second wicket before big paceman Iain McPeake picked up his first of the season – and after tea he would pocket another in McConchie.
By stumps Canterbury was five down, a lead of just 83 heading into the third day.
DAY ONE
After 31 weeks and one day, our game briefly returned to New Zealand cricket fields – beginning with respects by both teams and officials to NZ legend and Wellington icon John R. Reid, who passed away last week.
Canterbury skipper Cole McConchie started the first day of the new season on the note he desired by winning the first toss of 2020/21 at the Basin and sending the defending Plunket Shield champions the Wellington Firebirds into bat.
On Monday on which weather messed with both the opening first-class fixtures, McConchie would not have to wait long before his torrid bowlers chalked up the first wicket of the season – quick Ed Nuttall removing Tom Blundell with just his eighth delivery in the fourth over.
For Blundell, caught in the deep by fellow BLACKCAP Matt Henry, it was a frustrating start to his 50th cap match and the hosts lost a further wicket after the first of several rain breaks when Rachin Ravindra departed caught behind off first change Will Williams.
From 30/2, Devon Conway – batting at first drop – and Andrew Fletcher picked their way to 46/2 before more rain signalled lunchtime and, ultimately, the end of the day's play for no further cricket.
Set to bat at six, Finn Allen makes his Firebirds debut in this match, having previously notched nine scattered Plunket Shield appearances for the Auckland Aces, including three half centuries, between 2016/17 and 2018/19.
Former Northern Districts allrounder and BLACKCAP Daryl Mitchell meanwhile makes his first appearance for his new side, Canterbury.