13 December 2018
PLAYER INSIGHTS – LEO CARTER 77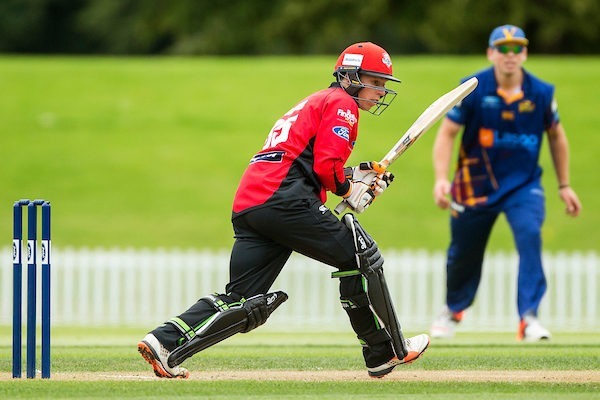 After Leo Carter turned 24 this week, we thought we would get him in for a chat about himself and what he thinks about the upcoming Burger King Super Smash season.
Nickname?
Dragon
Where did the Nickname come from?
It is just one I have had since I was younger and somehow managed to stick
Favourite Cricketer of all time?
Mike Hussey
Biggest comedian in the team?
Nuts (Ed Nuttall) is probably up there!
Most memorable moment playing for Canterbury?
My very first season (2015), winning the Plunket Shield was pretty awesome!
What does your off-season day to day and training look like?
I study marketing and management here at UC (University of Canterbury). In terms of training, I mainly focus on my technique as well as in the gym trying to get strong, fitter and faster before the season rolls around.
What do you see as the team's biggest goals and points of development at the moment?
Well winning is the goal, but we are such a young team at the moment, so as long as we keep improving and making progress forwards that is the main thing. I think we are just trying to fast-track our development so that we can increase the learning and then get the results.
Who do you see as your biggest competition going into the Super Smash season?
Well, the Knights have got to be up there, but to be honest, in 20/20 any team can really get up on the day, so it will be interesting.
Who do you think will be the highest run scorer in the Burger King Super Smash season?
I think Chad (Bowes) will have to be up there. He will be bringing in some big scores batting up the top of the order.
Number one tip for players trying to improve their game?
Hard work has got to be up there, because if you aren't willing to work hard then it doesn't really matter what tips you get, but for batters; I just like to focus on having a clear mind and watching the ball. If you are worried about anything else it is going to affect you pretty badly, so just clear mind and watch the ball.
Thanks to Dragon for taking the time to chat to us, and all the best for when you take on the Otago Volts in the 4th round Plunket Shield match starting today.