16 January 2019
PLAYER INSIGHTS – KATE EBRAHIM (50)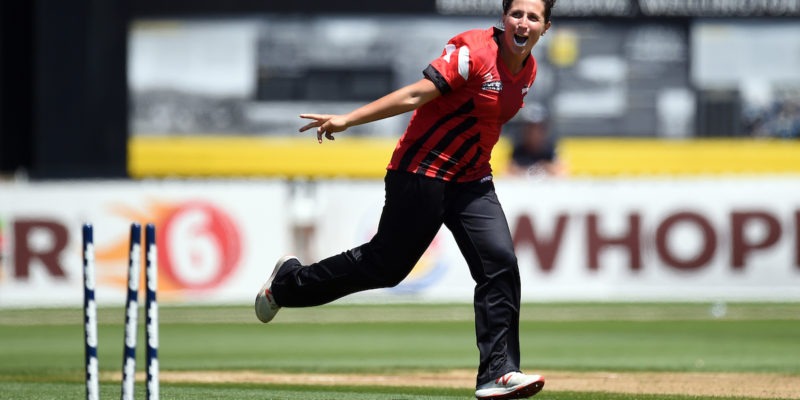 You'll find Kate Ebrahim teaching at Burnham school Monday – Friday, but come the weekend she's one of the Canterbury Magicians most senior all-rounders. But she's not as red and black as you think – proudly born and bred in Taranaki, Kate grew up as a good farm girl and moved down to Canterbury four years ago when her husband was offered a coaching role for the Canterbury Men's team. Prior to the Magicians, Kate spent ten years with the Central Hinds, developing her cricket which led her to representing New Zealand as a White Fern 68 times! A busy lifestyle, but when Kate has time to relax, she'll be fishing, camping, golfing or enjoying the great outdoors New Zealand has to offer.
Nickname?
Broady
Favourite cricketer of all time?
Would surely have to be my husband Dion Ebrahim. Since I'm an all-rounder, Jacques Kallis was my '2nd favourite'
Biggest comedian in the squad?
Gabby Sullivan, also known as Sully. A great lady who's always keen for a laugh and a good time.
Most memorable moment playing for Canterbury?
Scoring a 100 in the 2016/17 final is something I will never forget. We beat Auckland in the One Day Final at Hagley Oval. Auckland set us a total of 233 to win. We got off to a rocky start, but Erin (Bulla) and I managed to steady the ship and get the team over the line. I guess being able to contribute in any way, shape or form is what you want to do in any team. To do it in a final on Hagley Park is a special and memorable moment for me.
What does your off-season look like?
A mixture to be honest. To keep it short:
2017 – I was heavily involved in rugby with the Canterbury Women's team where we won the National Title for the first time.
2018 – I was heavily involved in the White Ferns camp, as we had a home tour against the West Indies, toured Ireland, England, Australia and the Caribbean.
2019 – This year, perhaps time to Relax. Once the cricket season has finished I'll be taking some time out to refresh and then we will assess on where to go from there.
What do you see as your biggest development points for your team at the moment?
We have a young group, therefore, throughout the BK SuperSmash Competition, we have had a lot of discussions and chats around learnings as a group and individuals. We slowly phasing in the next generation so it's important the young girls get as much exposure and experience as they will be the backbone of the Magicians.
How are you personally preparing for the Super Smash final?
To be honest, I'm off fishing on Thursday, so I'm rather relaxed in my prep. Monday was recovery. I headed off to pools and swam a few lengths and did my rehab. Tuesday, was a gym session with Canterbury's very own Mad Max. Wednesday I had a running session to do followed by team training and skills. Thursday I'm off into the rivers like I mentioned and if the fish are biting I may have to head back out again Friday!! Come Saturday when we land in Auckland I'll head to the ground and have a few hits and do the same again on Sunday before we start.
Everyone prepares differently, I'm not one to change my processes in the way I prep. I've been around a while now, I know what I need to prepare myself whether it's for a round robin or for finals fever. Knowing and sticking to your process is the key.
What is your #1 tip for players trying to get better?
Each individual asking themselves is their practice deliberate and specific and challenging their mental and technical skills every practice.