06 December 2018
PLAYER INSIGHTS – ED NUTTALL 32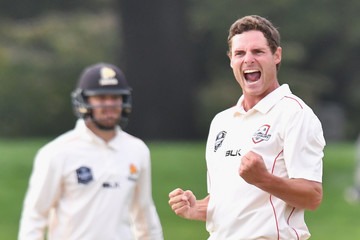 Canterbury quick Ed Nuttall never had any desire to try his hand at spin bowling like his father – instead he wanted to steam in, bowl fast, and take wickets.
Nickname?
Nuts
Favourite Cricketer of all time?
Growing up as a kid it would have to be Nathan Astle and Glenn McGrath from a bowling point of view.
Biggest comedian in the team?
Leo Carter – he's a bit of an underrated comedian.
Most memorable moment playing for Canterbury?
Winning my first Plunket Shield up in Tauranga. It was my first year contracted to Canterbury Cricket so I was on a real high making the experience hard to forget. There were a few guys in the changing rooms that day who I watched growing up on TV, so that was a surreal experience for me.
What does your off-season training look like?
The last couple of years has been rehab unfortunately as I've come off two stress fractures in my back. This season I'm looking at a couple of different options. I'll either head over to England to play during their summer or keep at the indoor nets and the gym. Outside of my training, I also have my university degree to finish off.
In terms of your back injury, how have you managed to fit back into the playing squad?
The last two seasons I've been bowling with pain – so much so that every over I had to bowl felt like agony and a bit of a chore. I'm now really enjoying cricket again as I can run in and bowl without any troubles, so that's a real positive for me.
What do you see as the team's biggest goals?
Of course, winning goes without saying, but at the moment we're really just trying to accelerate our learning being such a young side. We'd like to develop as a group now, so we can be a real threat to the competition in years to come. Also learning how to win with a lot of adversity would be a massive learning curve for us.
Who do you see as your biggest competition going into the Super Smash season?
I think you have to look at the Northern Knights. They were the winners last year and with a couple of good overseas signings, they'll be the team everyone will be going after.
Number one tip for players trying to improve their game?
When you go into each training session, try to focus on one particular area you want to work on. Do that every training and you'll avoid wasting time on just hitting or bowling a bowl.
Thanks to Ed for taking the time to chat to us, and all the best for when you take on the Otago Volts in your Burger King Super Smash opener in a couple of weeks.