03 August 2020
Opportunity abounds for NZC umpires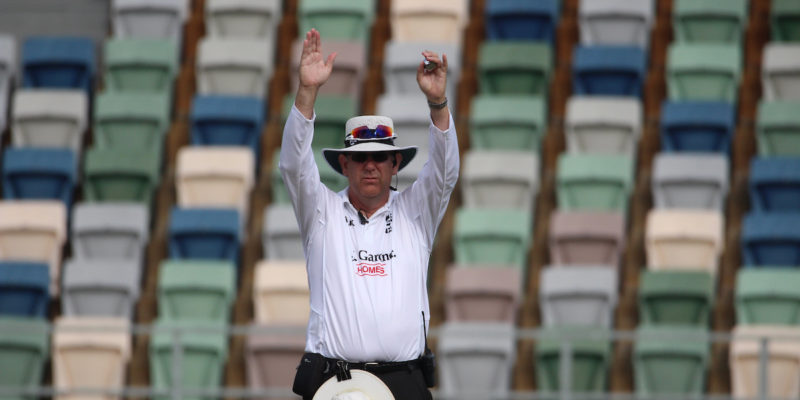 NZC's Match Officials list has a familiar feel for the upcoming season with the International, National and Reserve Umpire Panels remaining unchanged for 2020-21.
However, with the ICC outlining there won't be a requirement for non-neutral umpires in home Tests due to Covid-19, our International Panel umpires could well be used for BLACKCAPS Tests.
This would open the door for greater opportunities for those on the Reserve Panel to step up to First-Class level.
"It's great to be able to announce a settled umpiring group for the season ahead," said NZC Head of Cricket Operations Charlie Brewer.
"Our top umpires have been doing a superb job for several years now and it's an exciting prospect for the International Panel to stand in home Tests.
"We have full faith that the Reserve Panel can step up, if required, to fill the gap at First-Class level and know this will provide that group with valuable match experience."
Kim Cotton continues to pave the way for female umpires in the country, retaining her spot on the Reserve Panel for the season ahead.
"Kim is going from strength to strength with her umpiring and it was fantastic to see her stand in the ICC Women's T20 World Cup Final earlier this year," Brewer said.
"She retains her spot on the Reserve Panel and will continue her development as our top female umpire in the country."
Former international umpire and NZC Umpire Coach, Tony Hill, is a new addition to the NZC Match Referee group, with the rest of the list returning for another season.
Auckland Regional Scorer Manager Annette Campbell will embark on her 26th consecutive season scoring premier cricket in New Zealand, fresh from winning the NZC Official of the Year Award at the recent ANZ New Zealand Cricket Awards 2019-20.
*National Panel umpires primarily officiate in the Plunket Shield, Ford Trophy and Super Smash competitions while the Reserve Panel primarily officiate in the Hallyburton Johnstone Shield, NZC National Tournaments and Hawke Cup Challenge matches.
NZC Match Official appointments for 2020-21
NZC G.J Gardner Homes International Umpire Panel
Chris Brown – Auckland
Shaun Haig – Otago
Wayne Knights – Auckland
NZC G.J Gardner Homes National Panel
Billy Bowden – Auckland
John Bromley – Canterbury
John Dempsey – Northern Districts
Ash Mehrotra – Northern Districts
Tim Parlane – Canterbury
Derek Walker – Otago
Chris Brown, Shaun Haig and Wayne Knights will also serve on the National Panel when available.
NZC Reserve Panel
Cory Black – Wellington
Kim Cotton – Canterbury
Tyron Davies – Wellington
Lui Els – Northern Districts
Kannan Jagannathan – Otago
Damian Morrow – Northern Districts
Pete Pasco – Otago
Eugene Sanders – Canterbury
Tim Shirriffs – Central Districts
Allen Stanley – Auckland
Garth Stirrat – Wellington
Glen Walklin – Central Districts
NZC Match Referees
Gary Baxter
Ross Dykes
Richard Hayward
Kevin Pulley
Tony Hill
NZC Regional Scorer Managers
Annette Campbell – Auckland & Acting Northern Districts
Duncan Mitchell – Central Districts
Ian Smith – Wellington
Tony Feely – Canterbury
Malcolm Jones – Otago
ICC Elite Panel
Chris Gaffaney – Otago