04 March 2019
McConchie leads Canterbury to 9 wicket win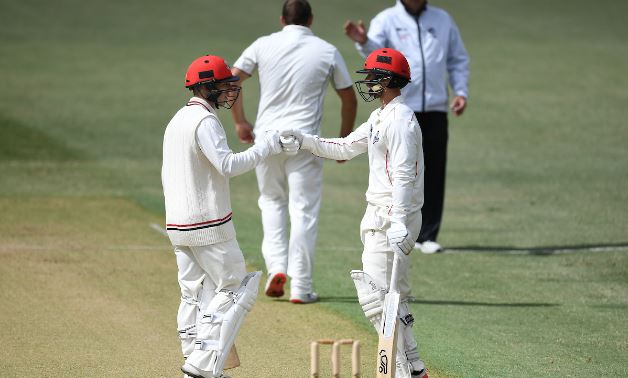 DAY ONE
Canterbury captain Cole McConchie top-scored for his side with his third first-class century, and first at his home ground of Hagley Oval, to be unbeaten on 152* at stumps in Canterbury's tally of 314 for six.
The effort is already a first-class career best for McConchie whose previous best was 131 in the 2016/17 season.
McConchie had support from Stephen Murdoch's 60 and a birthday effort of 64 from Cam Fletcher across the day, while Firebird Hamish Bennett's 4-57 puts the paceman in line for a potential five-wicket bag should he continue his wicket-snaring ways into day two.
Illness for Jimmy Neesham saw a late change to the Firebirds' squad, with Neesham sitting out the match, with the other news of the day from the camp that of coach Bruce Edgar, who announced he would be moving on at the close of the summer.
Canterbury finished the day with three batting bonus points with a possibility of a fourth tomorrow, while the Firebirds have two bowling bonus points heading into tomorrow before the 110-over cut-off mark.
DAY TWO
The Wellington Firebirds headed to stumps trailing their hosts Canterbury by 253 runs, with six wickets in hand and captain Michael Bracewell on 74* overnight, although he would become an early casualty for no further score the following morning.
As in the other two concurrent matches in this round, the hosts had earlier declared their first innings, captain Cole McConchie having led the way with his marathon 162 before calling in Theo van Woerkom (a career best 63*) and Will Williams (26*) at 424 for eight.
Hamish Bennett chipped away with the ball for the visitors, claiming his eighth first-class five-wicket bag, and fifth for the Firebirds, with his haul of 5-85.

DAY THREE
The Firebirds were forced to follow on at Hagley Oval after having been dismissed for 249 in their first innings, 175 runs in arrears of Canterbury's total. By stumps, they had cut their overall deficit to just 22 runs, but found themselves in grave danger with just four second-innings wickets left in hand in the process.
A stunning missile from quick Ed Nuttall had removed their biggest dangerman, Devon Conway, for just one run, and Nuttall also got Michael Bracewell to play on for no score in his 2-37 off eight overs.
Meanwhile, young opener Rachin Ravindra had already departed scoreless from the first over, suffering a pair in the match, bowled by Matt Henry who went on to remove Leo Carter for no score as well, after Carter toed the ball straight into the waiting slips.
Henry finished the day with 3-29 and will likely guarantee a tough time of it for the remaining Firebirds on the final morning in Christchurch.
For the visitors, Logan van Beek will resume on 33* and Ollie Newton on 35*, looking to grow their vital 75-run stand for the seventh wicket.
DAY FOUR
Following on into the final day, the Firebirds found themselves with backs against the wall after Henry Shipley managed to break a significant stand between Logan van Beek and Ollie Newton for the seventh wicket.
The overnight pair had put on 107 runs together with van Beek (33* overnight) reaching his half century just before the breakthrough.
Newton calmly pressed on and, over the next seven overs, picked his way to a very patient 68 — a new career best in first-class cricket, with the support of new partner Jeetan Patel.
However, after almost four and a half hours at the crease, Newton's number was also up when he was caught off Matt Henry.
Henry now had four for the innings, and nine for the match, while Ed Nuttall picked up his third a couple of overs later in Patel who was caught behind after his brisk 39.
Nine down, the first session carried on until lunch was called at 285 for nine, the Firebirds now with a precarious overall lead of 110 at the break.
The Firebirds' tail had showed itself well capable of a fight, and with it breathed life into the last afternoon. They added a further 16 runs before Canterbury finally dismissed them for 301 in the second dig, Iain McPeake having reached 24 and Hamish Bennett left unbeaten on 26* after having frustrated the Canterbury attack for almost an hour.
However, when Will Williams finally got McPeake caught behind, it left a target of just 127 for his batsmen. Jack Boyle was a Jeetan Patel casualty in the ninth over of the chase before McConchie, stepping up to first drop, and Stephen Murdoch, having moved up to open in Chad Bowes's absence, settled things down for the second wicket.
Murdoch reached his second half century of the match, finishing unbeaten on 62* with McConchie 37* as they sealed a comfortable nine-wicket win.
Canterbury now heads back out to Rangiora to host the Aces on Saturday in what should be a fascinating match-up, while the Firebirds travel to Dunedin to play the Otago Volts in the first of two home matches to finish the summer for the southerners.
Plunket Shield Table after round 6