06 May 2020
Mates Mariu and Frew share scholarship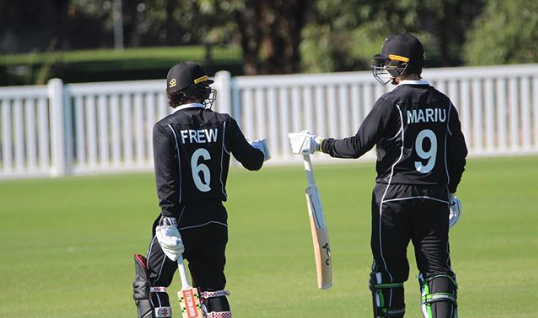 GOOD MATES Jesse Frew and Rhys Mariu have added another chapter to their cricket story by being named joint recipients of the Fulton Scholarship for 2020.
"We've been playing together since we were eight or nine years-old and we're best mates so it's pretty pleasing to have someone like Rhys alongside me for this," Frew said.
Frew, an all rounder and Mariu an opening batsmen are both 18-years-old and have represented Canterbury through the junior age-groups and we're teammates in the St Andrew's College first XI that won the Gillette Cup national schoolboys title in December.
The Fulton Cricket Scholarship is named after former Canterbury Country, Canterbury captain and BLACKCAPS batsman Peter Fulton who created the scholarship in 2015 in an effort to help emerging Canterbury Country players progress.
Each recipient receives $2500 and will receive one-on-one coaching and mentoring from Fulton as well as other personal development assistance.
Frew, who plays for Darfield, said it was a great opportunity.
"It's a great stepping stone. I've worked with Fults (Fulton) before and it will be great to do it again."
The pair were in the New Zealand under-19 squad together with Mariu making the World Cup team earlier this year and Frew missing out, in part because of a stress fracture he has dealt with for the past three years which prevented him bowling.
"We're having good results with the physio and (New Zealand under-19 coach Paul Wiseman) said he would help me with my return."
Mariu, who plays for OxfordRangiora said it was an honour to be recognised by Fulton. He said he was thrilled with his season and felt opening the batting really suited his mentality on the field.
"I want to be in the game and I want to score the bulk of the runs," he said.
"I don't want to leave it to anyone else. I'm not a fan of sitting and watching cricket so opening works for me."
He said he was keen to improve his technique against spin bowling in the short term.
"I think it's where New Zealand batsmen often struggle so I want to ensure I get better at playing it."
Both players said they wanted to progress through the Canterbury ranks and push for higher honours.
The Fulton Scholarship was a step in that direction.
Article republished from Jacob Page at Star Media