24 December 2021
Match Report – MAGICIANS v BRAVE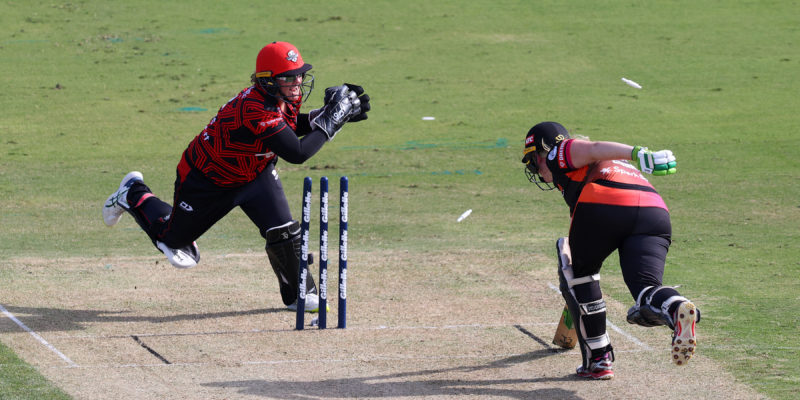 Captain Frankie Mackay won the toss and chose to bat on a blisteringly hot afternoon in Tauranga.
A measured start by the MAGICIANS saw them through to the end of the powerplay at 39-1, with Natalie Cox being the only casualty in the first 6 overs. Satterthwaite and Mackay went about setting a platform for the middle order to launch, striking the ball well, turning the strike regularly and navigating accurate bowling from a Northern BRAVE side hungry for a win.
The experienced WHITE FERNS pair saw the MAGICIANS through to the start of the 11th over before Satterthwaite was caught off the bowling of talented youngster Nensi Patel.
This ushered our "batting all-rounder" Lea Tahuhu to the crease who has been in formidable form so far in this year's Super Smash. Using her first ball to work out the pace of the wicket, Tahuhu hit her next three balls, 4, 4, 6 to inject some serious energy into the innings.
Lea Tahuhu doing Lea Tahuhu things

MAGICIANS 88-2 after 13

🎥 @sparknzsport @LTahuhu pic.twitter.com/ZvHisb93ca

— Canterbury Cricket (@CanterburyCrick) December 23, 2021
Mackay was happy to play the role of anchor as she watched her teammate play her shots. However, as soon as she entered, Tahuhu was caught trying to find the rope again for a blistering 22 off 9 – just what the MAGICIANS needed pushing into the final 6 overs.
In her typical style, Mackay began to accelerate the longer she stayed at the crease, finding the boundary more regularly as the innings wore on. Combining well with Jacinta Savage for a partnership of 44, Mackay was eventually dismissed for a well made 43 at the end of the 19th over.
A tight last over from Halliday that only went for 6 and took the wicket of Savage meant the MAGICIANS finished on 142-6 after their 20 – a very good total.
Jess Simmons and Missy Banks took the new ball for the MAGCIANS as Gurrey and Anderson got into their chase. Lasting 9 overs, the opening pair put on 63 runs for the first wicket, going at a comfortable pace and taking minimal risks.
Captain Mackay got the first breakthrough for the MAGICIANS when she combined brilliantly with Hughes to run out Gurrey for 29. Captain Mackay then gathered her troops and gave one of the all-time great Captain's rev ups – but it wasn't until the 13th over that the speed wobbles truly started for the BRAVE, when Simmons dismissed the set Halliday for 49.
FRANKY MACKAY!!#SparkSport #SuperSmashNZ@CanterburyCrick @SuperSmashNZ pic.twitter.com/piBsIxfHvX

— Spark Sport (@sparknzsport) December 23, 2021
From there, wickets fell regularly, the runs dried up, and superb, tight bowling put the BRAVE under immense pressure. Savage, Satterthwaite, Banks, Mackay, and Simmons all got on the wickets tally as the BRAVE ended up falling 16 runs short of what, at one point, looked to be a straightforward chase.
The KINGS and the MAGICIANS are back at Hagley Oval on BOXING DAY when we face the Otago SPARKS and VOLTS