20 December 2020
Magicians' revenge at Hagley Oval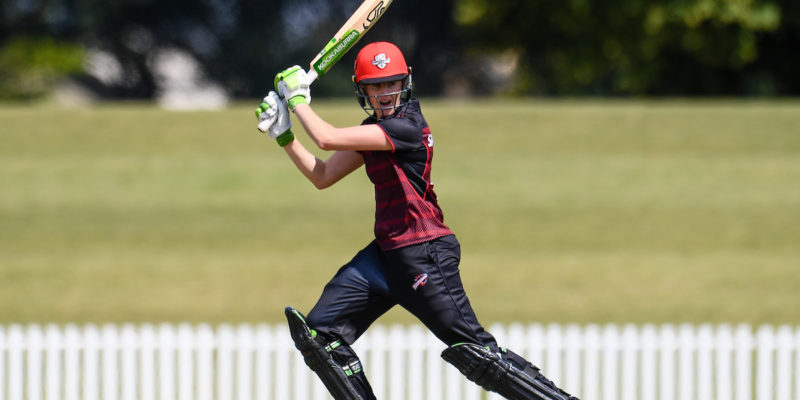 It was the last round of national domestic one-day cricket action around New Zealand before teams broke for Dream11 Super Smash, and three teams headed in looking to take the one-day lead into the new year.
In Saturday's fifth round, the Central Hinds had pulled off a bonus point win in a DLS run chase to reclaim a fragile one-point lead over the Canterbury Magicians who had meanwhile lost to Wellington Blaze – losing their unbeaten status after one round on top.
The Hinds and Magicians were now both four from five, while defending champions the Hearts meanwhile had picked up their third win on the bounce – able to join Canterbury in second spot if they could get a bonus point, and Blaze could go unbeaten from rounds five and six.
The Canterbury Magicians had alternate plans for the weekend, and batted first after captain Frankie Mackay won the toss at an overcast Hagley.
Emma Kench was an early loss at 27/1, but Mackay and Amy Satterthwaite soon had a substantial second-wicket stand underway.
The pair both reached half centuries en route to a century stand before drinks: business as usual for the stellar pair. The fluent partnership would reach 127 before Mackay misjudged Jess Kerr and was caught behind on 68 at 154 for two.
Smooth Satterthwaite had looked on course for a century, but 14-year-old Kate Chandler – the whizzkid fresh from her maiden five-wicket bag the previous day – once again did the giant-killing, Satterthwaite caught and bowled on 81 after 87 balls.
Blaze had another big wicket when Beth Molony bowled Kate Ebrahim on 45, but Canterbury was now into the death overs – well placed at 234 for four, and getting through to the end of their 50 without further loss to set the Blaze a good chase of 276.
Kate Sims then struck early for the Mags, going for just 1-11 off her opening four-over spell with big hitter Rebecca Burns back in the pavilion.
Mackay brought herself on at fourth change in the 10th and had her first breakthrough in her fourth over.
The captain quickly went on to rustle up three wickets as she bowled nine on the trot through the middle, stopping Jess McFadyen (25) and Caitlin King (34) when they had been set, before adding Georgia Plimmer cheaply.
Blaze captain Thamsyn Newton (34) now had a rather big rebuild to lead, but was the next to fall at 122 for five in the 36th over, Wellington now needing a steep 12 runs per over.
The pressure mounted as wickets fell, Sims coming back and making a quick double strike and finishing with a fine career best 3-19 off her eight overs, including two maidens.
Mackay's figures of 3-18 off her 10 overs stood out, their teammates getting in on the wicket action towards the end with Missy Banks claiming the last wicket in the 43rd over for a solid 139-run bonus point win. The Magicians were right back on top, pending the Hinds' result in Dunedin.