13 January 2019
Magicians qualify for Super Smash final!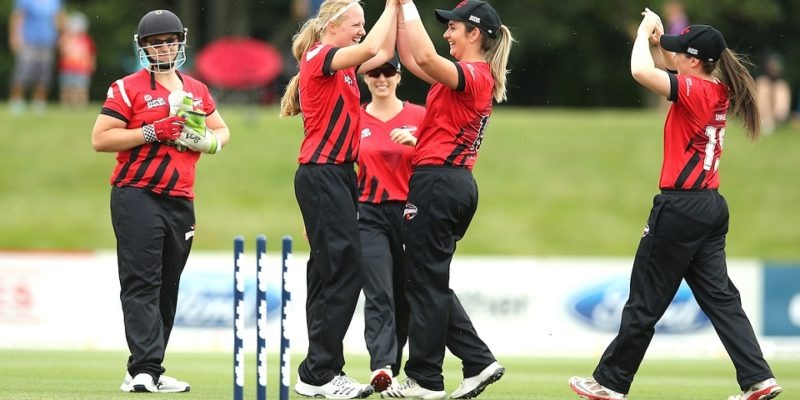 Canterbury Magicians Gabby Sullivan (C) celebrates a wicket. Photo – Photosport NZ
Summary:
Canterbury Magicians 168/5 (20 overs) (MacKay 97, Bermingham 36, Rowe 2/28) beat Central Hinds 104/9 (Rowe 45, Sullivan 3/30, Bermingham 2/20) by 64 runs. 
Frankie Mackay missed out on her ton in the last over, but her 97 took her to the top of the season's run scoring chart, and helped book her side a spot in the final.
Kirsty Nation scooped Hannah Rowe to mid off for a regulation catch in the second over for three – but from there it was largely one way traffic.
Frankie Mackay and Erin Bermingham took full toll on a belting wicket and lightning fast outfield, hitting cleanly down the ground and aggressively across the line when the chance came up.
Helped by some errors in the field, they put on 90 runs together before Georgia Atkinson beat Bermingham in the air to trap her LBW for 36, to bring in Kate Ebrahim (20) to keep the momentum going.
In a dramatic final over, Mackay was stuck at the non-strikers' end on 96, while Rowe pinned down and then bowled Nat Cox for five. Mackay eventually got on strike for the final ball, but was unable to hit the boundary needed for her ton, and was run out for 97 in the scramble for more runs.
The Magicians rocked the Hinds back with two wickets in the first two overs, removing Nat Cox for a duck and Jess Watkin for one, with Bermingham taking two catches, including one from her first over.
Under overcast skies Jess Simmons slid several balls past the Hinds' batters, bowling out early for 1-8 from her four overs to push the run rate up to 11's early.
Rain arrived and went as a succession of Hinds' wickets fell. The Magicians' fielding and catching was rock solid, taking all their chances with just Rowe offering some mid order aggression, driving strongly down the ground to reach 45 from 34 with three massive sixes, including one high on the bank down the ground.
The Hinds completed their 20 overs nine down for 104 – the Magicians then faced an agonising wait for the Otago Sparks v Auckland Hearts match to finish to discover if their season was over, or they'd be heading to Auckland for the final.
BK Super Smash final 
Wellington Blaze v Canterbury Magicians 
4pm 20 January 2019
Eden Park Outer Oval, Auckland