12 March 2021
Magicians on the hunt for finals spot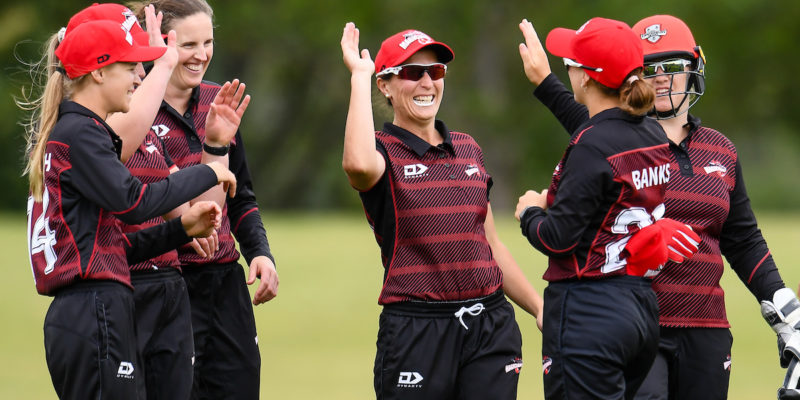 The Canterbury Magicians will be looking to book a finals spot in the Hallyburton Johnstone Shield Final this weekend when they meet the Auckland Hearts in two one-day games at Eden Park Outer Oval.
With just two matches remaining in the regular season, there's a log jam at the top of the table with the Magicians, Hearts, Hinds and Spirit looking to clinch the top two spots.
WHITE FERNS Amy Satterthwaite and Frankie Mackay return to the squad, although Canterbury will be without the services of fellow international star Lea Tahuhu who suffered a hamstring injury whilst fielding against England at Hagley Oval.
Magicians head coach Rhys Morgan said the team are embracing the challenge.
"With the WHITE FERNS available, it's looking like a quality match up between both teams.
"It's unfortunate to lose Lea at such a crucial time of the season, but that gives our young bowlers an opportunity to step up.
"We've had experience this season in playing high pressure games, so we're just looking forward to playing two more against a quality side".
Play gets underway from 10:00am tomorrow at Eden Park Outer Oval.
Canterbury Magicians Squad
Round Nine & Ten
13 & 14 March
Frankie Mackay (c)
Sarah Asmussen
Missy Banks
Nat Cox
Kate Ebrahim
Laura Hughes (wk)
Emma Kench
Kirsty Nation
Amy Satterthwaite
Jess Simmons
Kate Sims
Gabby Sullivan
The Hallyburton Johnstone Shield competition centre for all results, stats and upcoming matches can be found here.