04 February 2020
MAGICIANS magic weekend at Mainpower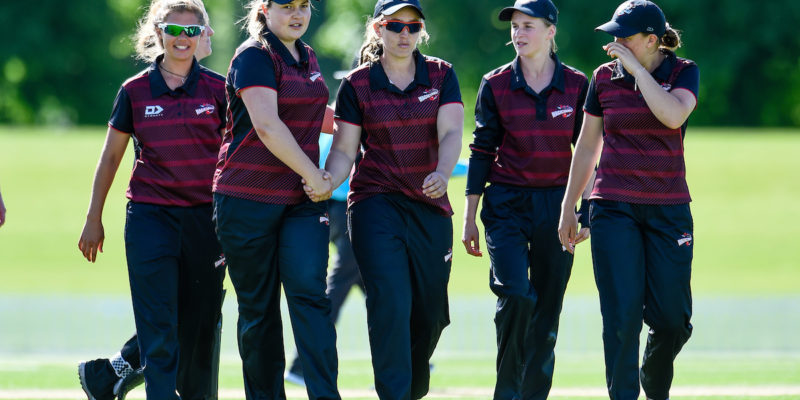 Saturday – Round Seven
Still in contention, the Canterbury Magicians were out to keep southern rivals the Otago Sparks winless in the penultimate weekend of the regular season.
Sent in on a scorching Canterbury country afternoon, the youthful Sparks got off to a good start thanks to Caitlin Blakely's 61 in a 41-opening stand with Olivia Gain. But after Gain became the first of Sarah Asmussen's four victims for the day, the visitors struggled to build another handy partnership.
Blakely watched on as nine of her teammates were dismissed at the other end, before becoming the last to fall with the tally at 118 in the 46th over. Nineteen-year-old Asmussen finished with a standout career best of 4-23 off her 10 overs, including two wicket maidens.
The Sparks bowlers had little to work with as the Magicians showed them how it's done, coasting home for a bonus point victory in the 28th over.
Jacinta Savage (52*) hit the winning boundary off Marina Lamplough to reach her well deserved half century off the same delivery, while Allie Mace-Cochrane contributed 38.
Emma Black had picked up Kirsty Nation in the first over, but there was little else for the Sparks to savour from another tough day in Rangiora.
Sunday – Round Eight
A 119-run Sunday victory continued an important winning weekend for the Canterbury Magicians in a last-ditch bid to make the last two; while the young Sparks were left winless ahead of their last weekend in a tough regular season.
In Frankie Mackay's absence, Laura Hughes was named Magicians captain and started the day on point by winning the toss and choosing to bat first at a hot, dry Mainpower Oval.
The Magicians made 191 all out in exactly 50 overs, 21-year-old Sparks legspinner Sophie Oldershaw giving her side something to smile about with a maiden Women's List A bag of five for 19 off her 10 overs, including an impressive four maidens.
The Sparks couldn't get going with the bat in reply, however, and were all out for 72 inside 35 overs as the learning experiences continued.
With SKY commentator Frankie Mackay absent, Kristy Havill celebrated her debut with 2-23 off eight, including three maidens, while Missy Banks picked up 2-5 off her six overs and Jess Simmons with 3-17 wrapping it up.
The final weekend of the regular season begins on 22 February with the Magicians away to the Central Hinds at Pukekura Park and the Sparks hosting Wellington Blaze at University of Otago Oval.