21 January 2019
Magicians go close to a grand final upset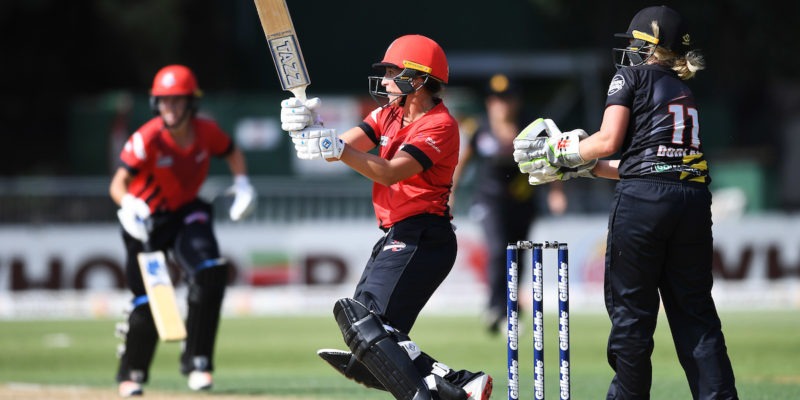 Summary:
Canterbury Magicians 130-3 in 20 overs (Erin Bermingham 61*, Kate Ebrahim 38, Jessica Kerr 1-25) lost to Wellington Blaze (Rebecca Burns 41, Sophie Devine 31) by four wickets at Eden Park Outer Oval, Auckland.
The Wellington Blaze are back to back champions in this format, taking out a tense BK Super Smash Grand Final win by four wickets.
The Canterbury Magicians went agonisingly close, and were one run out away from tying the match on the final ball.
In a season that's seen big crowds and TV audiences enjoy women's cricket all around New Zealand, this final provided tense, high quality and no end of drama at the finish.
Kirsty Nation went for the big shot down the ground on the very first ball of the match, where Thamsyn Newton dived, got a hand to it and ended up tipping it over the rope for six.
From there, some air-tight Blaze pressure brought the big wicket of Frankie Mackay in the fifth over, run out pushing a single too hard for 11.
Nation followed for six to bring Kate Ebrahim and Erin Bermingham together, getting the innings back on track with cautious running, placement and chips over the top.
Jessica Kerr (1-25) Sophie Devine (1-28) and Deanna Doughty (0-23) all gave nothing away – Ebrahim was caught mistiming an Amelia Kerr delivery for 38 from 38, before Bermingham cut loose, picking up six fours in her 61*, to help the Magicians scramble to 130-3.
Bermingham had Lucy Doolan trapped LBW for one in the second over to bring Burns and Devine together, weathering the pressure to put on 69 runs at a steady rate.
Devine hit three big sixes in the tenth over and looked ready launch – but just when some magic was needed it, Mackay provided it with some sharp fielding from her own bowling to run Devine out for 31. Burns followed, stumped by Hughes from Gabby Sullivan's bowling for 41.
Amelia Kerr (28) and Liz Perry (9) batted cautiously for 35 runs, but in the last two overs, all kinds of drama kicked off.
First Kerr was run out pushing too hard for a single, them Perry played all around an Ebrahim delivery to leave Jessica Kerr and Newton to get the runs.
With eight needed from the last over, Newton was run out by some sharp work again from her own bowling by Mackay. Then with the scores tied and one needed from the last ball, Jess Kerr pushed to the bowler and ran through. Mackay's throw went agonisingly just past the stumps, and the title, for the second year running, was Wellington's.