06 February 2021
MAGICIANS BACK ON TOP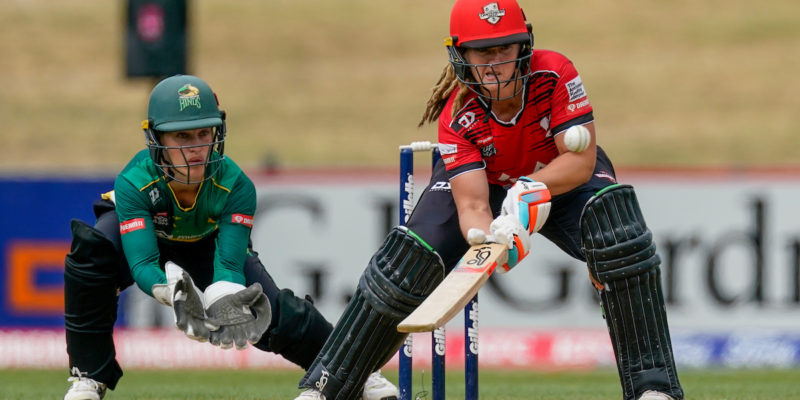 In their last regular season outing, the polished Canterbury MAGICIANS swept aside out of contention hosts the Central Hinds to move back to the coveted top rung of the ladder.
With their last away win, the MAGICIANS now hold a fragile two-run lead over Wellington Blaze and a four-point lead over the Auckland Hearts – the other two qualified teams who will meet each other on Sunday at Eden Park Outer Oval with the remaining, pivotal four points at stake.
The outcome of that match will determine which team qualifies top and gains direct entry to the Grand Final in Wellington, and also, the venue for the men's and women's Elimination Final (to be held at the women's second qualifier's home ground).
Canterbury MAGICIANS captain Frankie Mackay won the toss and batted at an overcast McLean Park and, while the injury-hit Hinds will have been pleased to hold the strong Cantabrians to 137 for five, it wouldn't prove enough to stop the red and black charge as Mackay led the way with an innovative 46 at the top in a 51-stand with Amy Satterthwaite.
The Hinds had lost a key player in their previous round in co-captain Jess Watkin, bringing in Gemma Sims on debut – while the MAGICIANS had also suffered a freak injury setback with Jacinta Savage fracturing her ankle the day before the match, and Jess Simmons called into the squad.
Hannah Rowe captained solo in Watkin's absence and was one of three wicket-takers alongside attacking Claudia Green and young leg-spinner Georgia Atkinson.
But the MAGICIANS kept all bar one of their wickets intact until almost the 14th over when Atkinson picked up a prize wicket in Mackay. Satterthwaite (36 off 28) and Kate Ebrahim (27 off 26) then had a license to attack through the death to ensure the MAGICIANS reached a defendable tally.
The Hinds missed Watkin's presence at the top, with Natalie Dodd's early exit adding to their difficulties.
Opener Emily Cunningham got a good start with a six among her 25 runs, however, while Rowe and Anlo van Deventer gave their side chance with a 49-run stand for the fourth.
But the MAGICIANS were on the home straight once they chipped out those wickets, cruising to a comfortable 30-run win, Gabby Sullivan grabbing 3-26 and and Mackay and Lea Tahuhu both creating good pressure for an economical brace apiece.
The Hinds will now head back to prepare for the one-day Hallyburton Johnstone Shield in which they are the current leaders, while the MAGICIANS will be watching tomorrow's Blaze-Hearts match with a vested interest.