08 December 2019
Last ball thriller at the Basin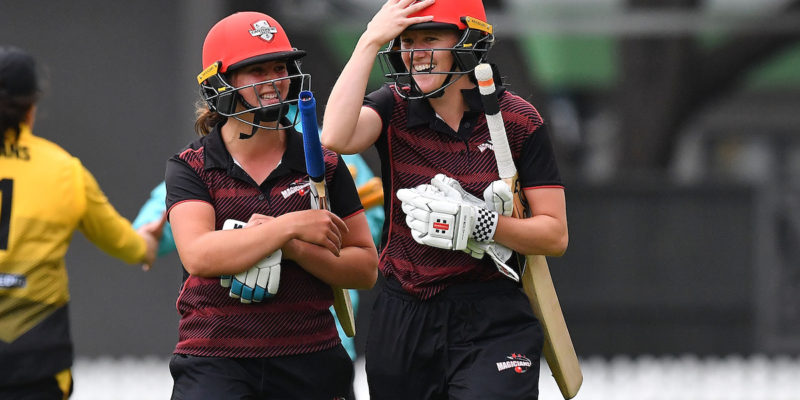 A nerveless Gabby Sullivan six off the last ball of the match delivered a thrilling win to the Canterbury Magicians while breaking Blaze's hearts at the Basin in the tightest of finishes.
The Magicians will have savoured the fortune after an up-and-down start to their one-day campaign that reached its midpoint with a hard-fought thriller at the Basin.
Blaze captain Leigh Kasperek had elected to bat first with her side setting the Mags a chase of 233.
Kasperek had herself top-scored with 75 at first-drop, but struggled for support until a useful unbeaten 47* off 65 balls from Maneka Singh, batting at eight.
The pair put on a positive 92 for the seventh wicket, a new Blaze record against all teams before Kasperek departed caught in the 46th over.
Having reached 232 for seven, the Blaze got two early breakthroughs with the ball but Canterbury Magicians captain and run machine Frankie Mackay (below) loomed as the major obstacle, settling in for business as usual on the way to yet another century this season.
Opening batsman Mackay's 115 of 146 balls dominated the Canterbury scorecard, with vital support coming from Nat Cox who produced another career best this season with 65 off 91.
They were vital runs with most the rest of the Mags' order falling cheaply as Jess Kerr (2-40) and Kasperek (3-56) chipped out wickets en route to a final over full of high drama.
Mackay was still there, on the verge of carrying her bat yet again before she was run out on the second ball in a desperate rush for 12 more runs.
After a single and the runout off the first two of Kasperek's deliveries, the Blaze captain then dotted down to increase the pressure with three balls to go.
But new batsman Sullivan was just getting a sighter, it seemed. She hit the next ball for four, then ran a two. Last ball now, and six runs required.
No problem for Sullivan who carved it over square, just enough on it to seal a dramatic win.