30 January 2019
Kings v Volts – Saturday Feb 2nd Game Day Guide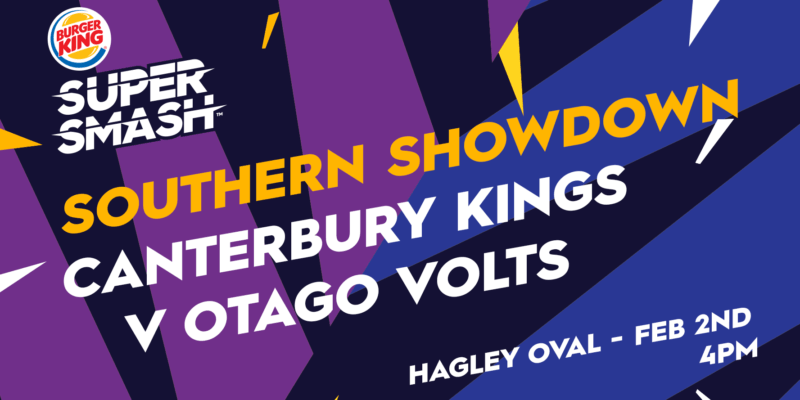 Joining us at Hagley Oval on Saturday? Here's everything you need to know!
MATCH DETAILS:
Gates Open – 3pm
Coin Toss – 3.30pm
First Ball – 4pm
TICKETS:
Beat the queue and buy your tickets online – https://www.ticketdirect.co.nz/event/details/190623/canterbury-kings-v-otago-volts
Tickets will be for sale on the gate (if not sold out) – $15 Adults / $5 Juniors
THE LAST TIME WE PLAYED THE VOLTS:
Dec 23, 2018 – Otago Volts chased down Canterbury's 184-5 with three balls to spare thanks to good knocks at either end of the innings from Hamish Rutherford and Anaru Kitchen.
Match Report – http://www.supersmash.co.nz/news-videos/volts-take-a-bite-out-of-kings
THE LAST TIME THE VOLTS PLAYED AT HAGLEY:
Dec 14, 2017 – Canterbury's Kings hit the ground running in the Burger King Super Smash with a whopping 134 run record win over the Volts — despite another Jacob Duffy T20 five-fa.
Match Report – http://www.supersmash.co.nz/news-videos/stoked-kings-win-big-at-hagley
TEAM LISTS:
Canterbury Kings: Cole McConchie (c), Jeremy Benton, Chad Bowes, Leo Carter, Andrew Ellis, Cam Fletcher (wk), Kyle Jamieson, Tom MacRury, Steve Murdoch, Ed Nuttall, Henry Shipley, Will Williams.
Otago Volts: Neil Broom, Ben Cox, Jacob Duffy, Josh Finnie, Shawn Hicks, Anaru Kitchen, Michael Rippon, Hamish Rutherford, Nathan Smith, Josh Tasman-Jones, Christi Viljoen, Brad Wilson
MATCH DAY CHARITY:
Māia Health – Māia's current focus is on enhancing the rooftop helipad to provide quicker, faster access for emergency care. The plans for the redevelopment of Christchurch Hospital had provision for a smaller helipad; Māia is raising funds to provide for a purpose-built and future-proof rooftop helipad. Look out for a big polystyrene 13 at the gate – Bring a gold coin and show your support.
GIVEAWAYS:
Grab your playing card on the gate, and if your "Super Smash Play" happens,
KIDS ZONE:
We will have our giant inflatables to the left of the entry gate. Bring the kids along and test out their own cricketing skills.
VENDORS:
SISTER KONG BAR –  Cassels and Sons beer, Beefeater GIN, Giesen Wine.
RADISH – Japanese food (Chicken Karaage is a crowd favourite)
COFFEE VICE – Coffee and milk shakes (Iced coffee too)
LIL ORBITS – Donuts
PAULS EVENT CATERING – Slushies and spiral potatoes
KHMER ANGKOR – Cambodian Cuisine
MERCHANDISE:
Pick up some Kings Merchandise at the Purple Dynasty Sport tent at the top of the Embankment.
PLAYER SIGNINGS:
Catch all of the Canterbury Kings and Otago Volts players after the game to the left of the pavilion.