04 January 2021
KINGS POCKET POINTS IN FIVE-OVER SHOOTOUT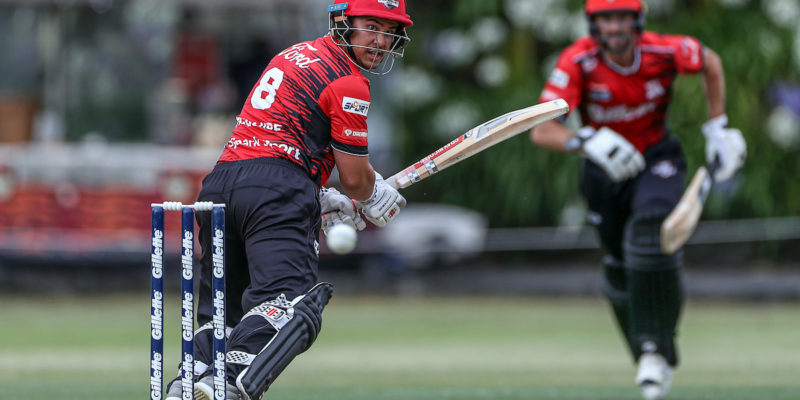 Weather, bombs. This super Sunday had the two extremes of T20 cricket.
Summer rain washed out the opening act, just 10 balls possible between the Auckland Hearts and Canterbury Magicians before the precipitation returned and saw the match called off, the teams taking two points each. That was enough to push the Hearts to the top of the table, taking a fragile two-point lead on the ladder.
The men were luckier on the weather front on a humid, moody Auckland Sunday afternoon.
After a long wait, a quickfire five-overs-per-side game was confirmed – making for a high intensity, urgent spectacle between the Kings and Aces at Outer Oval.
It was the Aces' first match at home, and they were desperate to chalk up a win after a tough trot away – but last year's Grand Finalists would go home empty-handed yet again at their fourth attempt.
BLACKCAP Mark Chapman stepped up to the plate with 25 off 13 after they were sent in, but he was left kicking himself after sending a catch to the safe hands of Leo Carter off Will Williams' over just as he had the chance to escalate.
It was Carter's second grab after the big early wicket of Glenn Phillips. Ben Horne instead did the finishing for the hosts with an unbeaten 13* off seven, the Aces getting 54/4 in their five frantic overs.
The Kings needed RPO 10+ but the urgency kicked in and produced some late New Year's fireworks off the bats of Chad Bowes and Ken McClure.
Needing 26 off the last two overs, the pressure was still on Canterbury as BLACKCAP Will Somerville took the ball for the penultimate over – each bowler permitted just six balls.
Bowes was up to the challenge with some class ball striking, blasting two sixes among the 17 runs off the over. That left nine required off Danru Ferns's last, and Bowes (a six off the first ball) and McClure (the winning boundary) ran it down without loss – a 10-wicket win to the Kings after a right royal performance.
Bowes finished with 39* off just 14 and Ken McClure 15* off 13 as they pocketed the quick four points to move into second (courtesy of their rocket-boosted net run rate) on the congested men's ladder.