13 January 2019
Kings fold to rampant Stags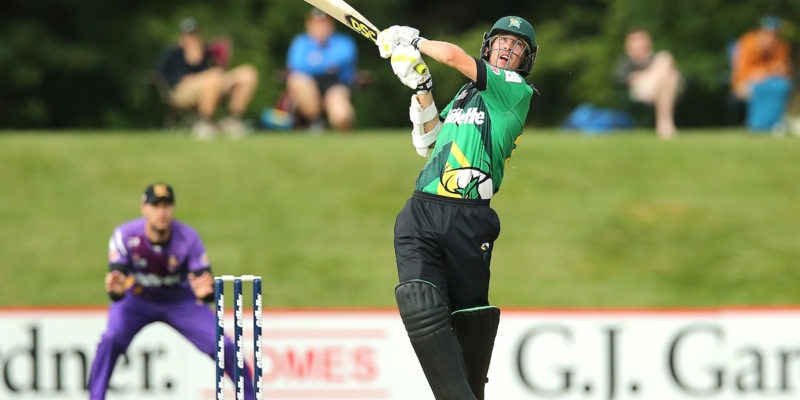 Match report by Ahmad Khawaja
Stags batsman George Worker: Photo: www.photosport.nz/
Summary:
Canterbury Kings 112/8 (20 overs) (Astle 25, Jamieson 21*, Tickner 3/15, Rance 2/19) lost to Central Stags 113/4 (16.5 overs) (Bruce 45*, Young 33, Jamieson 2/20, Astle 2/21) by six wickets
The Big Picture
The second Super Smash T20 match day at Hagley Oval presented another opportunity for the Canterbury Kings to kick their tournament into gear, however it was not to be as they ran into a red-hot Central Stags outfit in Christchurch.
On a briefly rain-affected day, the Kings' innings could simply never get going in the face of some outstanding catching by the visitors, coupled with some very smart bowling by the pacemen. Blair Tickner ran through the top and middle order with three wickets, leaving the Kings reeling at 41 for 6 almost mid-way through the innings. Todd Astle and Leo Carter started the recovery, while later on Kyle Jamieson combined with Astle for a few late blows ensuring Canterbury made it over the 100-mark.
Even with some moisture in the air, it was always going to be tough for the Kings' bowlers to defend. They battled hard, with Jamieson's back of a length strategy again proving effective with two wickets, whilst Todd Astle's comeback from injury was fruitful with a tidy four-over spell. However, George Worker and Will Young gave Central a swift start, before captain Tom Bruce powered them home with an unbeaten 45 to ensure a Stags' victory by six wickets with 17 balls to spare.
Unfortunately, it meant the Kings would stay last on the ladder with one win from five matches (four points) while the Stags move up to second place with three wins from six matches (14 points). The Kings have another chance to topple the first-placed Knights on Wednesday 16 January when they take them on at Seddon Park.
Kings find the going tough in the face of outstanding fielding effort
Unsurprisingly, Young won the toss and inserted Canterbury in on another pretty good pitch. Some rain had been sprinkling the ground, and even with the ball skidding on a bit more, would still prove effective for batting.
But the Kings found themselves in early trouble after Bowes cut Ben Wheeler to third man where Seth Rance took a superb diving catch, before Dean Foxcroft matched him at the point in the next over, snatching a fantastic catch to his left to send Stephen Murdoch back.
Tom Latham and Cole McConchie steadied the ship for a short while, with Latham looking confident driving and off his legs, while McConchie played an exquisite drive through cover for four. However after both went in quick succession, Foxcroft had three matches and the Kings found themselves 39 for 4 in the eighth over. Tickner surprised Cameron Fletcher with a quick delivery which ballooned off his bat onto helmet for a caught and bowled, and when Andrew Ellis was caught brilliantly by Doug Bracewell at mid-wicket, Canterbury were in disarray at 41 for 6.
Leo Carter found time in the middle and alongside Todd Astle, would look to rebuild the innings. Carter pulled Bracewell for six over fine leg in the tenth over, and played a couple of lovely back-to back cut shots behind point off Wheeler in the 13th over to get the innings moving. The pair put on 32 at nearly a run-a-ball before Carter hit a low full-toss to cover to give Ajaz Patel his first wicket. Kyle Jamieson's introduction continued the platform set as he added 34 for the eighth wicket with Astle. A few late boundaries ensured the Kings had something to bowl at in reaching 112 for 8.
The Central bowlers were excellent and time again worked their variations to great effect, including a number of bouncers and off cutters, not letting the Canterbury batsmen settle.
Young, Bruce control chase for Central
With 113 as the target, the Kings' bowlers needed to get wickets early and alongside Astle, also had Matt Henry back in the line-up to strengthen the bowling stocks.
Worker would be the one to strike first, taking on Henry in striking him for two boundaries in his first over. He would play one shot too many though, taking on Jamieson and only succeeding in striking the ball to Ellis at mid-on for the Kings' first wicket. He would make two not long after when Foxcroft thrashed a ball straight to Bowes at point to have the Stags at 28 for 2 mid-way through the fifth over.
From there, Bruce and Young were able to pace the chase well, adding 57 for the third wicket. Bruce was especially belligerent, striking Nuttall for four boundaries in the one over, while Young was content to play the anchor role.
Jamieson was impressive, bowling one maiden in his four overs, while Astle got some match overs under his belt on return, bowling with good control and rewarded with a wicket later on when he had Young caught behind; Latham taking a smart edge off a leg-spinner.
However, despite an admirable bowling effort the Kings' bowlers simply didn't have enough runs to defend, with the Stags getting home with 17 balls to spare and taking a deserved victory. The Kings will have some positives to take away from the loss in spite of this though, and with that will be looking for an improved batting effort on a generally good Seddon Park batting track when they take on the Knights in Hamilton on Wednesday.
Grab tickets to our next Hagley Oval fixture against the Auckland Aces here.