19 November 2020
Jackson Latham collects seventeenth contract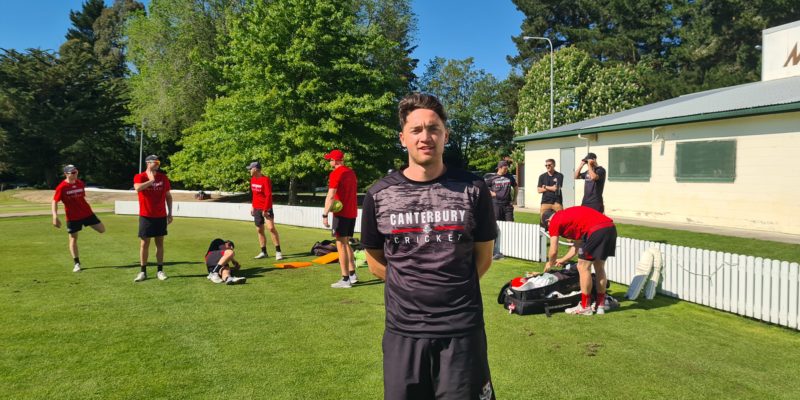 Burnside West seamer Jackson Latham has collected a unique seventeenth Canterbury contract after Andrew Hazeldine has been ruled out of the season due to illness.
The 26-year old signed on the dotted line last year for Canterbury and was unlucky to miss out on the original contract list this season with tough competition for that final spot.
Although difficult circumstances, Jackson said he's looking forward to the road ahead.
"It's an unfortunate situation, but I'm grateful for the opportunity to focus on my cricket full-time", he said.
"Last season taught me to be patient and it's great to be in the picture for selection should I be required.
"I'm looking forward to improving my game and making the most of my summer with Canterbury".
Following tests back in September, Andrew Hazeldine was diagnosed with Hodgkin's Lymphoma. Early detection enabled an early treatment plan to be put in place which will require Andrew to hang up the boots for the season.
Hazeldine has eyed up a return to professional cricket in the 2021/22 season but has plans to be involved with the team through trainings, player appearances and of course, cheering his mates on from the sidelines.
Canterbury Cricket High Performance Manager, Marty Croy said: "Although Jackson didn't get an opportunity last year, we see his playing potential as being high given the circumstances around Andrew and existing injury concerns around the bowling group".
"Naturally it's an upsetting situation for Andrew and our thoughts are with him and his family at this time.
"We'll continue to support him throughout his treatment and recovery and look forward to seeing him back healthy next year.
"I'm excited for the opportunity it presents Jackson, and no doubt make the most of it to further progress his cricketing development."
Out of respect for Andrew and his family, please direct any media enquiries to Aaron Price on aprice@canterburycricket.org.nz.