24 December 2019
Hinds too hot in Napier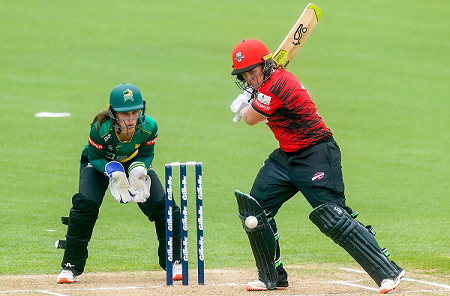 A 14th career T20 half century by Frankie Mackay wasn't enough in Napier, as the Central Hinds produced an excellent all-round display to cruise past the Canterbury Magicians by seven wickets at McLean Park.
Having won the toss and electing to bat, the Magicians pairing of Kirsty Nation and Frankie Mackay got off to a solid start, taking 31 off the first four overs.
When Nation (17 off 14) was caught off the bowling of Jess Watkin, the Hinds had the opportunity to put the squeeze on and It was an opportunity that the hosts took with both hands.
The runs dried up for the Magicians through the middle overs with boundaries few and far between on a slow track. Watkin, Claudia Green and Mikaela Greig were particularly miserly, giving up just 51 runs from their 12 overs combined. Greig was the stand-out on the day, finishing with 2-11 from her four overs of off-spin.
Captain Mackay and Allie Mace-Cochrane lifted the rate in the last four overs, but the total of 115-3 looked a bit light against a Hinds team with plenty of hitting power.
And so it proved. The Hinds batters all chipped in to ensure the target was hauled in with ease. Emily Cunningham and Watkin put on 45 for the first wicket and had the run-rate humming along at 10 an over.
Fresh off a hat-trick in her last outing, Gabby Sullivan (2-13) was impressive again for the Magicians. She dismissed both the openers in quick succession to give her side a boost. Watkin's 29 off 16 at the top of the innings had taken away any scoreboard pressure though and the Hinds needed little more than four an over to win upon her departure.
Natalie Dodd (28*) anchored the remainder of the chase and with the help of Anlo van Deventer (26) and Kerry Tomlinson (11*), guided the hosts home with 19 balls to spare.
The win is the Hinds' second from five matches and has them in fourth spot on the ladder. The Magicians remain winless after four matches and will be looking for a change in fortunes after Christmas.