30 November 2019
Hearts come up trumps on game one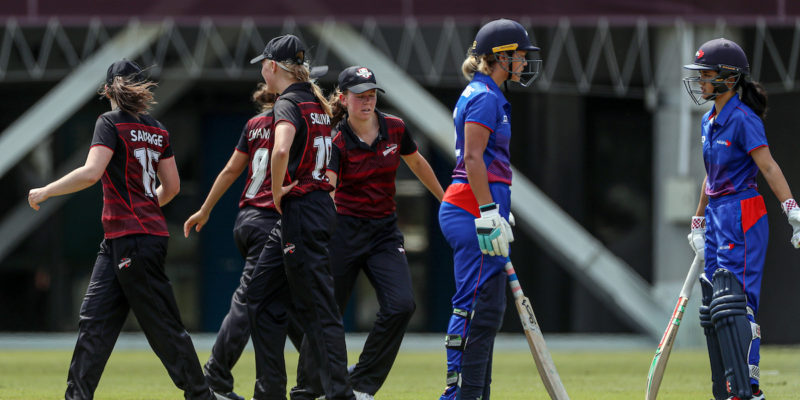 The Auckland Hearts scored valuable points of both the literal and metaphorical kind with a comfortable victory in their first home match of the 2019/20 summer.
Four wickets in the space of 11 balls in the 34th and 35th overs of the chase had the visitors hanging on by a thread – Holly Huddleston putting herself on a hat-trick and ultimately claiming three in the space of four balls in the dramatic 34th.
Earlier, Hearts captain Anna Peterson had won a toss and, despite the early loss of Lauren Down, her top order strung together a few partnerships to get a competitive total underway.
The Hearts had reached 100 for no further loss with Saachi Shahri (47) and Natasha van Tilburg (35) going strong in an 81-run stand before Sarah Asmussen broke through for the second wicket.
Shahri was joined by Katie Perkins and, while Shahri just missed out on a half century when Frankie Mackay (2-30) came on and had her caught two overs later, veteran Perkins continued her strong showing with the bat already this summer as she recombined with Peterson for the fourth wicket.
Perkins would stick around for almost the rest of the innings for her top score of 60, the middle to lower order chipping in around her as the Hearts made it to 50 overs for a healthy score of 258 for six.
The Canterbury Magicians needed a good start in reply but lost a big wicket in the eighth over when danger woman Mackay was run out on 24.
The breakthrough triggered something of a spree from the Hearts attack with Bella Armstong zeroing in on three top wickets in the space of six overs and Peterson meanwhile removing Kirsty Nation cheaply to have the Magicians under pressure at 61/5 in the 17th over.
Laura Hughes and Ella Chandler dug in for a 65-run stand but when Hughes became the first of Huddleston's victims, bowled in the busy 34th over, a tough chase only got tougher as the Hearts quickly tightened their grip.
Huddleston finished with 3-42 off her eight, and Armstrong 3-26 off 10 in a resounding win for the hosts.
The two sides will meet again at Eden Park Outer Oval in round four tomorrow.