16 March 2020
HAWKE CUP TO SPEND WINTER IN RANGIORA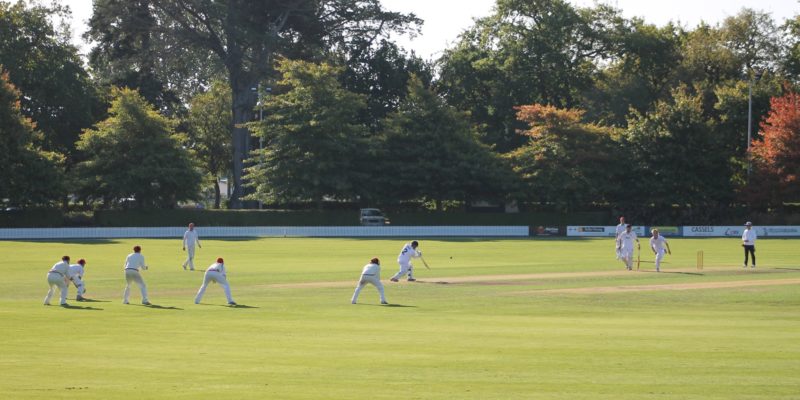 Challenge Match – Zone 4
[Holder] Canterbury Country v [Challenger] Otago Country
Mainpower Oval, Rangiora, 13-15 March 2020
Result: Draw, Canterbury Country defending the Cup on the first innings.
Canterbury Country will host the first Challenge match of 2020/21.
DAY THREE
After a lengthy ground delay, the morning session finally got underway only for Canterbury Country's Harry Chamberlain to depart with no addition to his overnight 56, caught and bowled off Otago Country's Sam Bastin's first over of the day.
Shanan Stewart accompanied overnight centurion Young for the next 11 overs before Tom Myles picked up his second wicket of the innings, by which time Young had progressed to 132 not out.
Crucially for the hosts, by now they held a small first innings lead that would secure the Cup in a draw.
Young surged onwards past his 150 (15 x 4, 2 x 6), and had just helped put the Canterbury Country 300 on the tins before lunch when his six-hour knock came to an end, bowled by Bastin on 166.
Canterbury Country could enjoy stretching their lead now on a Sunday drive. The captains shook hands at lunchtime at 357 for five: the Hawke Cup would be locked away in Rangiora for the winter.
DAY TWO
By the end of the second afternoon in Rangiora, host Canterbury Country was in a solid position: eight wickets still in hand and just a further 32 runs required to overtake Otago Country's first innings.
At 226 for two, the early loss of New Zealand Under 19 star Rhys Mariu was a distant memory with fellow opener Rupert brother-of-Will Young having reached an unbeaten 116*.
Young had shared a century stand for the second wicket with another youngster in Ben Hartland, before Otago Country's Tom Myles separated them on the stroke of tea, Hartland departing on 38 at 199 for two.
The final session saw Young reach his hundred in another century stand, putting on an unbroken 107 with Harry Chamberlain who will resume the last day on 56 not out.
Earlier, Otago Country had closed their first innings account at 257 all out, resilient number four Steve Hobson the last man to fall when he was caught off former Netherlands international Tim Gruijters on 111.
Hobson had begun the day on unbeaten 93, but the pressure went on with the Wanaka batsman rapidly running out of partners.
Shanan Stewart and Gruijters both picked up three-fors for the defenders in time for 13 overs in reply with the bat before lunch.
DAY ONE
Having prised away the Hawke Cup from Hamilton, Canterbury Country began its first defence against Zone 4 qualifier Otago Country in the final Challenge match of the summer.
Diminutive Otago Country last challenged for the interprovincial silverware nine summers ago – and won (lifting the trophy from North Otago in 2011 before surrendering it to Marlborough in their first defence), and after an hour's ground delay got off to an ideal start by winning the toss and electing to bat.
By the end of the shortened first day, they had worked their way to a reasonably good position against the strong hosts, 228 for seven with their number four batsman Steve Hobson unbeaten on 93 not out.
Tim McCormick had earlier contributed 52, combining nicely with Hobson to put on 109 for the 5th wicket after Otago Country had been in a spot of trouble at 62 for four.
For Canterbury Country, Shanan Stewart made the biggest impact with three wickets before lunch, while a runout had spelt the demise of opening batsman Tim Cumberland on 36 at 58 for three.