01 March 2020
HAWKE CUP HEADING TO CANTERBURY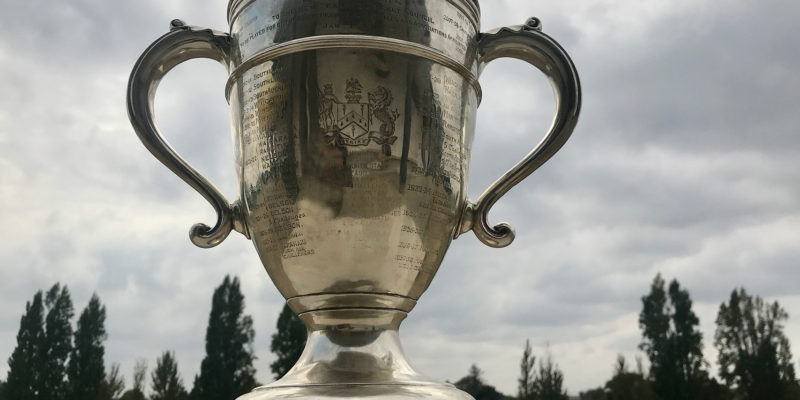 Hamilton lost to Canterbury Country by five wickets.
Galloway Park, Hamilton
28 February – 1 March 2020
DAY THREE
The Hawke Cup has a new home in 2019/20, heading south with Canterbury Country who defeated Hamilton outright for the spoils.
Henry Shipley finished with nine wickets for the match after the challengers ended Hamilton's last innings early on the last day – leaving a chase of just 102 for the challengers to take home the Hawke Cup, after a dominant display throughout.
Shipley didn't add to his overnight three-for to go with six in the first innings as Arafat Bhuiyan (3-50) and Tim Gruijters (4-67) did the honours, Hamilton losing their last three men inside the first 13 overs of the day.
Backs to the wall now, Hamilton's Matt Wallbank picked up an early wicket with young Rhys Mariu bowled at 18 for one, but the order was a tall one for the hosts whose run of two successful defences looked about to come to an end.
Freddy Walker claimed Ben Hartland in the 16th at 31 for two, Canterbury Country left needing 55 further runs with eight in hand at lunch.
The Walker brothers – Freddy (2-30) and Josef (2-56) took three more wickets between them but it wasn't enough to prevent the historic trophy leaving Galloway Park as Shipley struck the winning boundary mid-afternoon.
The final Challenge match of the season will take place at Canterbury Cricket's home ground against Zone 4 winner Otago Country from 13 to 15 March 2020.
To win the Hawke Cup, challengers must beat the holders outright or on the first innings in the event of a draw.
DAY TWO
After Shanan Stewart inched carefully to three figures in the first session, Canterbury Country expanded its lead past the 100-mark, with five wickets still in hand.
The opportunity was now presented to dictate terms, if the challenger could dig in. However, after the fall of Stewart at 202 for five – bowled on 113 by an elated Matt Wallbank, the tail of the innings swiftly disintegrated around a battling Tim Gruijters who had kept vigil for almost two and a half hours since the previous evening for his unbeaten 27*.
Freddy Walker wrapped it up for defender Hamilton with a bag, his 5-76 coming off 36.1 overs of grind to hold Canterbury Country to 240, a first-innings lead to the challenger of 142.
Hamilton needed a solid reply this time around and Elliot Santner once again loomed as the man that might anchor. Watching two wickets from the other end that had the hosts 56 for two, Santner knuckled down for almost three hours and was almost in sight of a half century when disaster struck and he was stumped off Tim Gruijters.
From 102 for three, things went south for Hamilton despite a 55 from captain Keir Bettley who had carried on for a 70-run stand for the fourth with Anton Devcich (39). But Bettley, Joe Walker, Devcich and Hatwell would all fall in the space of just two and a half overs in a tough end to the afternoon.
Suddenly Hamilton was seven down at the hands of Henry Shipley and Gruitjers again – and, with just 189 on the board, taking a precarious 47-run lead into the decisive day.
DAY ONE
Gone by lunchtime? 15 wickets fell on the first day of Hamilton's third defence of the season after Zone 3 Challenger Canterbury Country won the toss and sent the defenders in at Galloway Park.
Canterbury Country rolled Hamilton for just 98 in 28.2 overs at the suburban fortress Galloway Park, Darfield-born Canterbury first-class paceman Henry Shipley snaffling 6-27 as the Hamilton order fell apart, including a double wicket maiden for Shipley in just his second over of the day.
Shipley had removed opener Anish Desai and Northern Districts' Joe Walker in swift succession, then completed his six-over first spell by removing international Anton Devcich and Hamilton captain Keir Bettley in the space of four deliveries across two overs to sit on figures of 4-18 at drinks.
With Jed Roberts already having removed the big wicket of Elliot Santner in the third over of the morning – Santner had dug in for a marathon 157 in Hamilton's previous defence, at the same ground, against Hawke's Bay, Hamilton's backs were to the wall as doughty player-coach Brook Hatwell made his way out to the middle at 36/5 in the 12th.
Former first-class batsman Hatwell weathered six overs before he was caught off Arafat Bhuiyan at 55/6. Shipley came back on in the 24th over and again struck twice in the first over of his second spell to pick up his five-wicket bag, then convert that to 6-19 just two balls later.
After Roberts wrapped it up with Michael Dodunski trapped, lunch was taken between innings.
Facing the odds of a first innings deficit, Hamilton needed to return serve and indeed the dramatic first day continued with Canterbury Country losing their first wicket third ball of the reply, New Zealand Under 19 World Cup batting star Rhys Mariu bowled for no score off Matt Wallbank's opening over.
Wickets kept tumbling, Dodunski striking twice before Freddy Walker removed the other opening batsman Rupert Young (brother of NZC-contracted Central Stag Will Young) to have the challengers in a pickle of their own at 34 for four at the start of the 18th.
Enter Shanan Stewart. The former Canterbury run machine steadied the ship and, by stumps, had ground out a 75-run lead for his side with an unbeaten 94* at stumps, having batted and, moreover, survived for more than a session and a half.
Stewart had needed someone to stay with him and, despite Walker having Shipley caught just short of a half century in the half hour before stumps, Canterbury Country would have a chance now to press on and take control with five wickets still in hand.
To win the Hawke Cup, challengers must beat the holders on their home ground, either outright or on the first innings in the event of a drawn match.