13 January 2021
GAME DAY GUIDE CANTERBURY VS NORTHERN DISTRICTS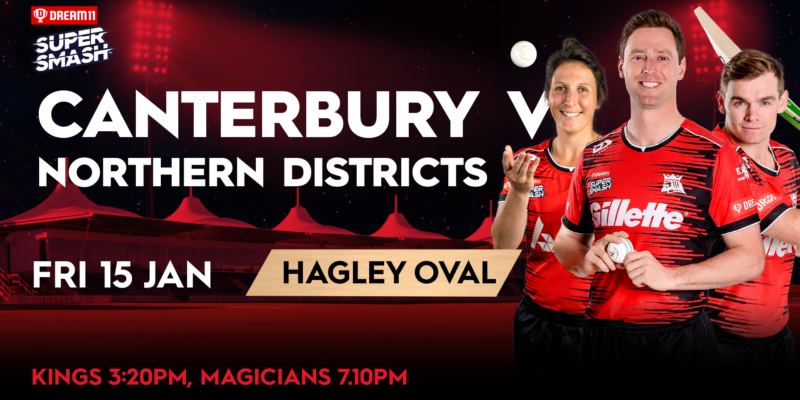 MATCH DETAILS:
Gates Open – 2.30pm
Kings Coin Toss – 2.50pm
Kings First Ball – 3.20pm
Magicians Coin Toss- 6.40pm
Magicians First Ball – 7.10pm
TICKETS:
Discounted tickets can be purchased in advance at https://canterburycricket.flicket.co.nz/. Adults $15, Juniors $5, Family $30. Tickets will also be available at the gate on match day.
TEAM LISTS: 
Kings: Cole McConchie (c), Todd Astle, Chad Bowes, Jack Boyle, Leo Carter, Sean Davey, Cam Fletcher, Matt Henry, Ken McClure, Daryl Mitchell, Ed Nuttall, Will Williams
Knights: Tim Seifert, Katene Clarke, Jeet Raval, Joe Carter, Anton Devcich, Mitch Santner, Brett Hampton, Scott Kuggeleijn, Joe Walker, Fred Walker, Anurag Verma, Zak Gibson, Peter Bocock.
Magicians: Frankie Mackay (c), Sarah Asmussen, Missy Banks, Nat Cox, Kate Ebrahim, Laura Hughes, Emma Kench, Kirsty Nation, Amy Satterthwaite, Jacinta Savage, Gabby Sullivan, Lea Tahuhu
Spirit: Brooke Halliday (c), Felicity Leydon-Davis, Kate Anderson, Lucy Boucher, Annie Ewart, Caitlin Gurrey, Lauren Heaps, Meddy Hyde, Naomi Matthews, Nensi Patel, Eimear Richardson, Charlotte Sarsfield, Makayla Templeton.
MATCH DAY ACTIVATIONS:
PLAY TM: More FM will be onsite at each of the Canterbury home games in January with the legendary PLAY TM! It's like an eftpos machine… but scans tickets and dispenses prizes to give Cricket fans a memorable experience as they arrive.
For one hour as fans arrive for the game, More FM staff will greet them near the gates with the chance to scan their cricket ticket at the PLAY TM to see if their ticket is a lucky ticket. Selected tickets will dispense a prize down the chute!
MAIA MAD DASH: During the innings break Maia Health will give you a chance to win some prizes by competing in the Maia Mad Dash. It's a race to the finish line and along the way you will have to put on a selection of different cricket equipment.
Sign up during the first innings at the Maia Health gazebo to be in with chance for your name to be called out to take part in the Maia Mad Dash!
KIDS ZONE: We will have our giant inflatables to the left of gate B entry. A great chance for the kids to test out their cricketing skills.
VENDORS:
Arjee Bhajee – Indian cuisine, soft drinks
Fush – Burgers, Fish & chips, coffee and café food
Tu Meke BBQ – Pulled pork, pulled lamb, burgers, loaded fries, slaw and pickles, smoked kransky
Tiki Taco – Burritos, tacos, quesadillas, nachos, chips and salsa, salad
Gelatiamo- Sundaes, gelati, sorbetti
Eagle Bar – Local craft brewery, on tap: Pilsner, APA, Hazy Pale Ale, Light Pilsner (2.5%), Range of Giesen Wines
MERCHANDISE:
Grab your official Kings and Magicians Merchandise from the Super Smash gazebo at the top of the embankment.
ENTRY TO THE GROUND:
For this match, you can enter through Gate B with access from Riccarton Avenue.
IMPORTANT VENUE INFORMATION:
It's not uncommon for the cricket ball to be hit into areas where fans are. Please stay safe by keeping your eye on the ball and remind your friends and family to do the same. For full event information including details about running times, what to bring, what not to bring and more click here.
COVID-19 SAFETY GUIDELINES:
Fan safety is our number one priority and we need your help to ensure events are as safe as possible.
Prior to attending the match, please ensure you download the NZ COVID Tracer app. All patrons are required to scan in, a parent or guardian may scan on behalf of a child. QR codes will be available to scan upon entry and throughout the venue. If you are feeling unwell or displaying any symptoms, please stay home.
WHEELCHAIR ACCESS:
Disability parking, with valid mobility pass, is available on Riccarton Ave. Wheelchair access is available via both Gate A and Gate B, however we recommend entering via Gate A as this is closest to the accessible seating area. Valid match tickets are required to access these parking spaces and entry points. Please note disabled parking is on a first come first served basis.
PARKING AND PUBLIC TRANSPORT:
Street parking is available on the streets surrounding Hagley Park. Free parking is also available at Christchurch Arena for those who wish to use public transport or taxis for the short journey to Hagley Oval. For information about public transport, click here.
FOOD AND DRINKS:
You can bring your own homemade food to the game. Just remember to use a soft chilly bag no larger than 20L. There will also be an array of food concessions at the venue. No alcohol can be brought into the match, but you can bring sealed, unopened plastic bottles (up to 1.5 litre in size) containing non-alcoholic beverages for personal consumption. A reminder that no glass or cans can be brought into any venue.
EMBANKMENT SEATING:
Please note that the grass embankment does not have any fixed seating. A low profile portable/collapsible seat will be permitted on the slope of the embankment while full sized seats will need to be positioned at the top of the embankment.
UMBRELLAS:
As there is limited space on the top of the embankments for deck chairs, once that space fills up, no more will be allowed. However, lower beach chairs are permitted on the embankment slope. We ask you to consider others around you when using these chairs. We can't allow umbrellas into the ground as they create a sight issue for patrons sitting behind. Free sunscreen will be available.
SMOKING:
This is a non-smoking venue. Patrons are asked to exit the ground when wishing to smoke, including the use of vaping devices and E-cigarettes.
PASS-OUTS:
A stamp will be given should you need to leave the venue and wish to return.