24 September 2020
Fulton signs for T20 Black Clash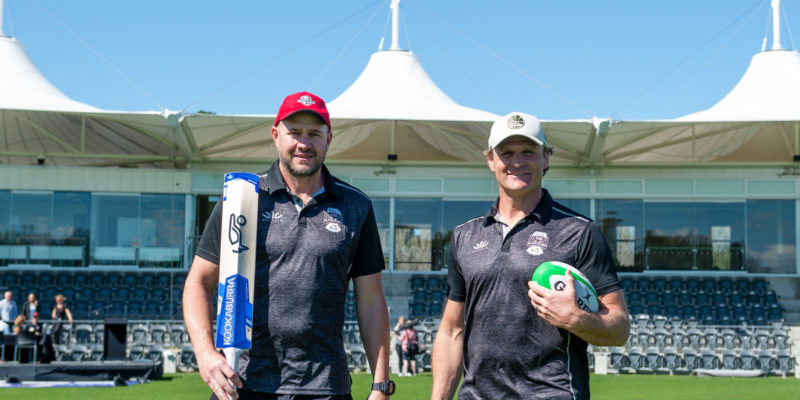 Canterbury Cricket legend and current coach of our Men's side, Peter Fulton has been selected in next year's T20 Black Clash.
The star-studded Rugby v Cricket showdown returns to Christchurch and is set to be the first match under the new floodlights at Hagley Oval. The inaugural Hot Spring Spas T20 Christchurch Black Clash in 2019 was played in front of a capacity crowd and watched by over one million Kiwis at home on television. This will be the third edition of the Black Clash and with both teams having won a game each, this is shaping up to be the biggest edition yet.
David Higgins, founder and director of Duco Events, said "it was fantastic to be able to look forward to staging another incredible event following the impacts of Covid-19 on the event industry".
Fulton has signed to represent Team Cricket coached by Stephen Fleming. However, at today's press release Sir Graham Henry, the coach of Team Rugby boldly offered Fulton a spot on his side. Fulton was in no rush to turn down the offer. "Two Metre Peter" is eligible for the Rugby Team after playing 1st XV rugby for Christs College.
Sir Graham has shown his ability to poach personnel after he was able to lure Scott "Razor" Robertson over to become the manager of Team Rugby after he was previously manager of Team Cricket. We will have to wait until the official team naming to see who Fulton will pledge his allegiance too.
Fulton said "I'm excited about having another crack on my home ground here in Christchurch" He added that the new addition of having a venue capable of hosting day/night cricket will be a huge boost for the region .
Grab your tickets here – https://www.blackclash.co.nz/tickets/