10 February 2020
Four-peat for Canterbury Over 60s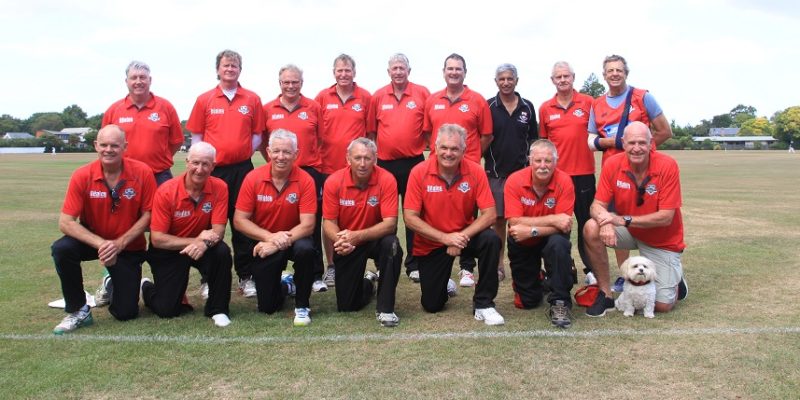 In previous years six teams played three round-robin games followed by a final play-off game to decide the winner. This year changes were made so all teams could play one another, with the winner being the team at the top of the ladder after the five matches.
This meant that all teams were encouraged to bring larger squads as the injury toll would no doubt be higher with no rest days scheduled.
The Canterbury side which had won the previous 3 tournaments were again expected to be very strong, with a squad of 17 including 5 players who were making debuts in the grade.
Round One: Canterbury v Central Districts (CD)
Canterbury played CD first up and skipper Masefield had no hesitation in batting first having won the toss. With openers Mike Johnston and Hugh Wright both reaching 40 retired in good time, a middle order fast 43 from Jeremy Wilson and a cameo 30 from Danny Langrope saw Canterbury post 225 off our 40 overs.
Although CD's top order batted very well, (comparison score level after 20 overs), the rest of the team were held at bay through some great bowling performances from Langrope (3-24) and Tony Gray (3-15) with CD all out just shy of 40 overs for 145.
Round Two: Canterbury v Wellington
Canterbury once again won the toss and choose to bat first at Hagley Park. Canterbury Cricket's own President Anup Nathu made his debut and performed well with the bat, retiring at 41*. Graeme Inglis, Mike Johnston and Phil Harris also retired all on 40* before a quick 25 ball 45* retired by Andrew Nuttall saw the hosts post a mammoth 253 – the tournaments highest score.
Wellington had a couple of 40* retired as well but could never maintain the required run rate and ended up with 128 off their 40 overs, meaning a 125-run win for Canterbury.
Round Three: Canterbury v Auckland
While the batsmen dominated the opening two games, it was now the bowlers who came to the fore as Canterbury ended up chasing in the final three games.
Against Auckland, ex first class player Bill (Chook) Fowler scored an impressive 42* retired while ex Test International Phil Horne had to retire hurt after 3 lovely boundaries. Canterbury's Andrew Nuttall 3-24, and Bob Masefield 2-29 cleaned up the Auckland tail restricting them to a modest 136.
Hugh Wright opened with 40* retired, while Jeremy Wilson 37* and John Morton 26* got Canterbury comfortably home in the 31st over with the loss of just 2 wickets.
Round Four: Canterbury v Otago
Game 4 against Otago had to be reduced to 30 overs each and played on the artificial wicket due to heavy overnight and morning rain. Otago batted first and only looked threatening when Allan Bligh scored a very fast 32 before Tony Gray had his number, but all the other batsmen were held in check by economical spells from Langrope, Gray, Nuttall and Johnston. 117 after 30 overs seemed well below par.
With opener Mike Johnstone and No. 3 Graeme Inglis both reaching their 40* retired, the target was reached easily enough in 27 overs, a 7 wicket win for Canterbury.
Round Five: Canterbury v Northern Districts (ND)
Waitangi Day saw all teams move to Burnside Park, with Canterbury playing Northern Districts in what was effectively a final.
With a recently watered pitch and outfield, along with some heavy rainfall, both captains were somewhat nervous at the toss. As it happed ND won the toss and elected to bat first.
Geoff Olsen and Ray Steele combined to get Canterbury off to the perfect start with Cliff King stumped. Cliff had not been dismissed in his previous 8 innings for ND at this event, so it was a significant blow to ND being able to post a competitive score. It certainly proved to be so as Tony Gray with 1-5 off 7 overs, Graeme Inglis 2-14 off his 7 and Andrew Nuttall 3-16 off 7 refused to let any batsmen dominate them as Canterbury restricted ND to a paltry 84 runs.
While Canterbury enjoyed their lunch more than ND, they still had a job to do and Mike Johnston led the way with his fourth 40* retired from as many appearances, and Canterbury easily got home safely in the 22nd over.
A very proud record for the Canterbury Over 60 side – 4 consecutive tournament wins, 17 games still undefeated.
Mike Johnston was voted Player of the Tournament officially by the umpires, a very popular and correct choice as our star all-rounder, with 161 runs in 4 innings all retired, 6 wickets for 49 runs at an economy rate of 2.33 runs per over and 3 outfield catches.
Report by Phil Harris – Canterbury Over 60s player