02 August 2018
Four Canterbury players offered WHITE FERNS contracts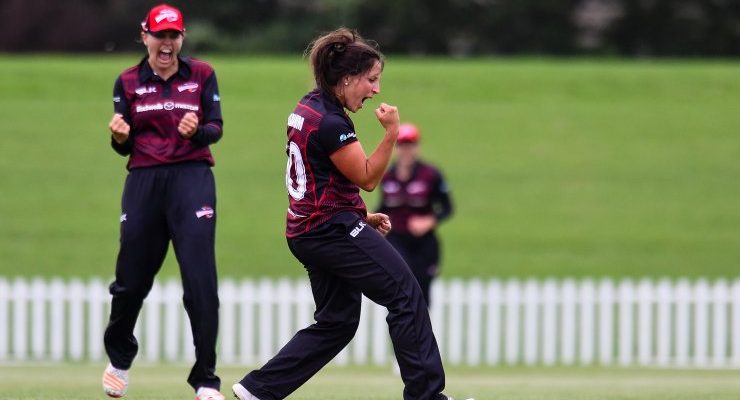 Heading into the 2018-19 season four Canterbury Magician's players have been offered full-time contracts with the WHITE FERNS.
Amy Satterthwaite played her 100th ODI last Summer and has a fantastic record so is well and truly settled in the WHITE FERNS side. Pace bowler Lea Tahuhu, who has been involved with the WHITE FERNS for several years has also picked up a contract again.
All-rounder Kate Ebrahim has also been offered a contract after making a successful comeback to the WHITE FERNS this Summer and stand-out form for Canterbury the past two seasons.
Born & bred Cantabrian Hayley Jensen returns to Canterbury and the WHITE FERNS side after a stint in Australia playing in the Women's Big Bash.
Canterbury Cricket CEO, Jez Curwin states, "We're incredibly proud of our four girls being offered WHITE FERNS contracts, it's a great reward for their performances at a domestic level and loyalty to New Zealand Cricket"
Exciting-young Central Hinds all-rounder Jess Watkin has been offered a WHITE FERNS contract on the back of a sparkling start to her international career.
The 20-year-old from Wanganui is one of four new players offered contracts on this year's list of 15 – which also includes a first-time offer for versatile Northern Spirit wicket-keeper Bernadine Bezuidenhout.
Watkin and Bezuidenhout both debuted on the recent tour of Ireland and England, where the former was able to cement her place in the WHITE FERNS One Day and T20 side with some impressive performances with bat and ball.
"It really is a dream come true to be offered my first full-time professional contract," Watkin said.
"Getting a taste of international cricket in Ireland and England left me wanting more and it's awesome that I'll now be able to train and play all year round."
Those offered contracts have until Monday, August 6, to accept.
The 15 players offered WHITE FERNS contracts for the 2018-19 season, in alphabetical order, are:
Suzie Bates (Otago Sparks)
Bernadine Bezuidenhout (Northern Spirit)
Sophie Devine (Wellington Blaze)
Kate Ebrahim (Canterbury Magicians)
Maddy Green (Auckland Hearts)
Holly Huddleston (Auckland Hearts)
Hayley Jensen (Canterbury Magicians)
Leigh Kasperek (Otago Sparks)
Amelia Kerr (Wellington Blaze)
Katey Martin (Otago Sparks)
Katie Perkins (Auckland Hearts)
Hannah Rowe (Central Hinds)
Amy Satterthwaite (Canterbury Magicians)
Lea Tahuhu (Canterbury Magicians)
Jess Watkin (Central Hinds)
Rachel Priest, Thamsyn Newton and Anna Peterson have missed out on contracts after being included last year, while Canterbury's Erin Bermingham has retired from international cricket.
Image courtesy of Photosport NZ.