07 April 2021
FIRST CLASS CHAMPIONS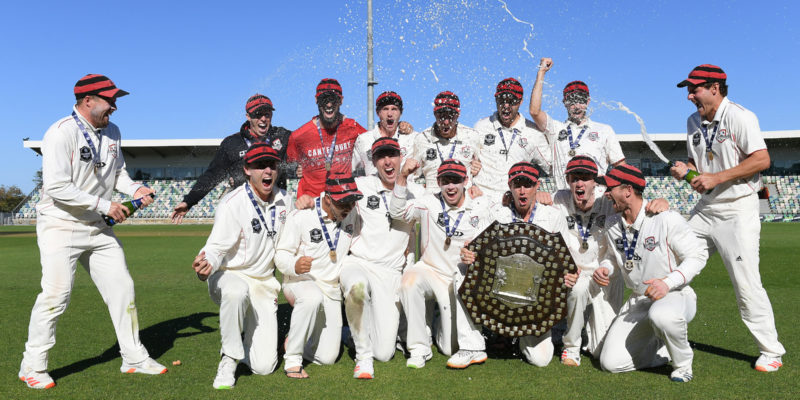 Canterbury's Plunket Shield team left the other five teams in their red and black wake with two rounds to spare this summer, winning the historic Shield by a country mile – and bringing home an unprecedented four out of five trophies for their Association this summer, together with the Canterbury Magicians.
ROUND 1 • beat Wellington Firebirds by 8 wickets • away
ROUND 2 • beat Wellington Firebirds by an innings & 19 runs • home
ROUND 3 • beat Northern Districts by an innings & 32 runs • home
ROUND 4 • drew with Otago Volts • away
ROUND 5 • beat Otago Volts by 88 runs • home
ROUND 6 • beat Central Stags by 9 wickets • home
ROUND 7 • drew with Auckland Aces • away
ROUND 8 • drew with Central Stags • away
The man they call "Bomber" – he can fly planes – also reached new heights, Will Williams finishing on top of the wicket-list for the first time with 31 wickets at a lean 17.03.
Angular, steady Williams had made his first-class debut for the side with an isolated match as a youngster back at the start of 2012/13, but until this season – his seventh – he had never taken a five-wicket bag.
View this post on Instagram
But this season he bagged two of them, and shot to the top alongside younger teammate Fraser Sheat – who likewise claimed his first two first-class bags to finish third in stakes with 27 wickets at 20.92; Otago Volts paceman Michael Rae finishing in between the Cantabrians with 29 at 20.93.
For much of the season, it was a bowlers' summer – particularly north of the Kaikōura Ranges with early season rain affecting the first half of the competition before Christmas, and a precious match between the Aces and Stags abandoned without so much as a toss.
But with growing depth in their pace attack, Canterbury were ready for it and hit the ground running with wins in Wellington, Christchurch and Rangiora in the first three rounds – and never looked back. The Aces also finished the 2020/21 summer unbeaten, but they will rue their run-ins with the weather gods in the luck of the draw, both parties on that front saving their best for last.
One man was absent from the Canterbury pace attack all summer, and he was very much in their thoughts throughout the championship campaign.
Andrew Hazeldine had been awarded a contract for the 2020/21 summer, but relinquished it when he was diagnosed with Hodgkin's Lymphoma in the preseason – missing Canterbury's best Domestic summer in recent years with his cricket mates in order to focus on treatment.
View this post on Instagram
Williams says the 26-year-old left-armer was never far from the team's thoughts as they racked up the victories and the moments in the sheds to savour.
"Andrew's been a part of our thoughts the entire way through. Before our Dream11 Super Smash Elimination Final (against the Stags in Auckland), he Zoomed into the group and told us he was cancer-free, which was a big lift for the fellas as I'm sure anyone can imagine.
"He's been in and around the group when he can, so this Plunket Shield trophy is 100 per cent for him as well."
Williams looks back on a special summer and tries to find the encapsulating descriptors.
"Fun", he offers. "It's really been a fun season. The lads have all played well at different points. We are performing well together as a whole team and that's what's been helping me perform myself.
"We've got guys like Fraser Sheat, Sean Davey, Daryl Mitchell to complement already established guys like Matt Henry and Ed Nuttall and all bowling well as the moment. It's a good group of seamers to be a part of."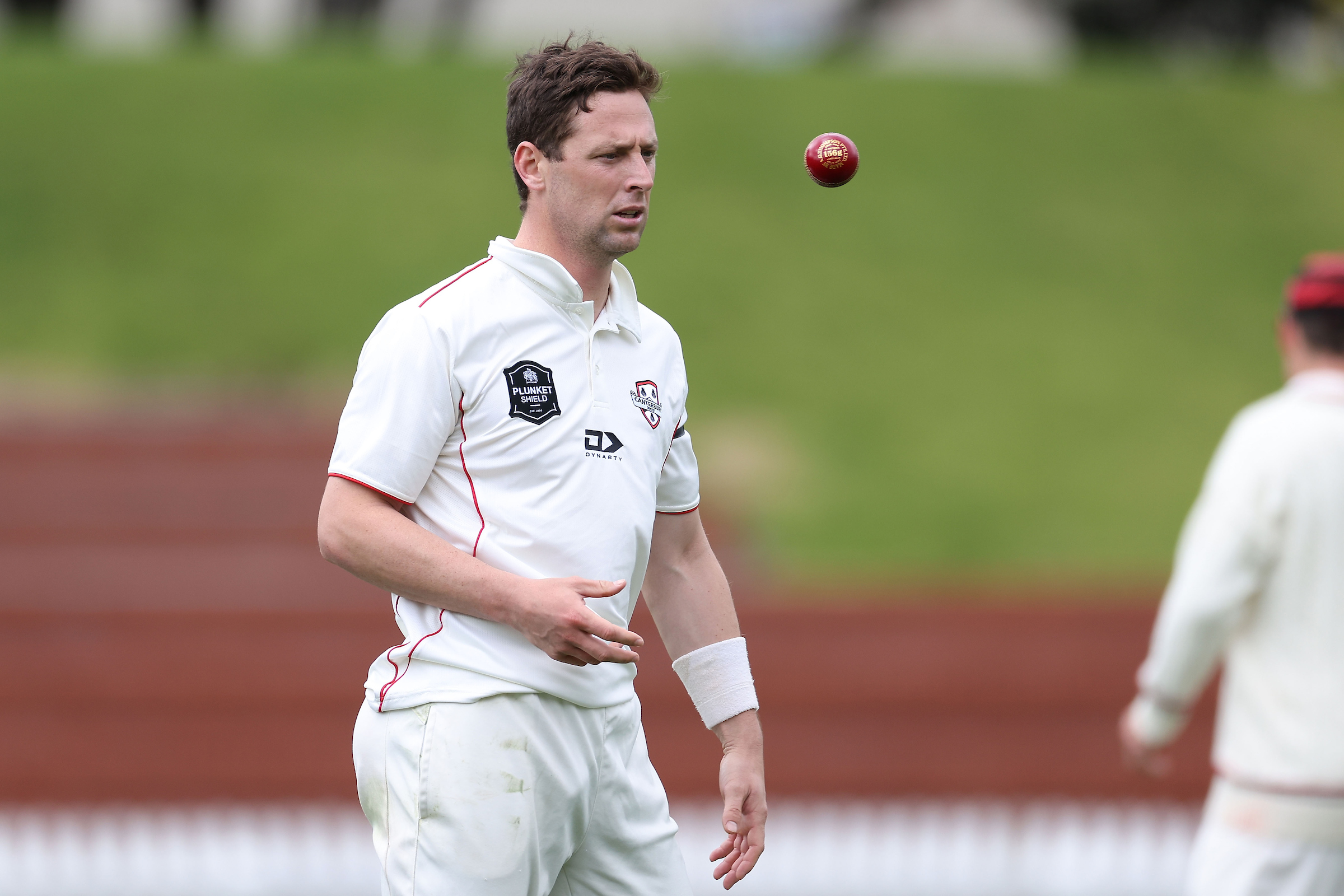 Senior paceman and BLACKCAP Henry meanwhile said he took a lot of pleasure in watching Williams step up to the plate with some key performances.
"When you look at someone like Will, he's the epitome of hard work in all areas," says Henry.
"He's been in and around our squad for a long time now and I think he's a leader within the group in the way he accounts for himself and prepares.
"He's very smart about his work, but he didn't always get the individual rewards previously – so the way he's bowled all season, in all formats, this summer, it's shown what an asset he really has been in this team, and it was so good to see him get that maiden five-wicket bag and do so well because I know he has worked so hard for it over a long period of time."
The pair of pacemen both say the old chestnut of keeping things simple – simple plans, simple conversations when they were in the nets – meant players would focus on always doing the basics well.
Williams: "For me, that's hitting good lengths, asking questions of batsmen, and working out what my role is at any given point. There are times when I'm attacking, other times where my role is to restrict batsmen and it's being mentally aware of when and how to switch that on."
Asked to pick out a favourite performance, the smart guy still has to rack his brain a little.
"Jeepers, it's hard to pick! Probably the Rangiora game when we played ND. The lads really stepped up in that one. We came off the park having scored 260 on the first day, and not sure if that was a good score. But then to knock them over twice in the next couple of days with no need to bat again, that was a real highlight.
View this post on Instagram
"In this format especially, your wins are more important on the points table, so we were focused on trying to win from anywhere – every game. We wanted to play with a positive brand and the undefeated season was just the little cherry on top of that."
Canterbury Head Coach Peter Fulton is no stranger to winning a Plunket Shield campaign – having captained the team to the championship title as a player. But in his first season as Canterbury's coach, he was proud of the emphatic nature of Canterbury's campaign.
"The Plunket Shield is the most special to win, in my opinion," says Fulton.
"That's because it take the most amount of work. Eight rounds now – it used to be 10, but eight rounds of hard cricket, and you've got to maintain that over the course of the season to the end, so it's the most arduous and the most satisfying.
"It was actually quite a strange feeling for all of us to go into the last two games with the title already, but to do that with two rounds to spare, in an eight-round competition, just shows how well the guys have played. It sets the standards pretty high for us, going forward."
"Everyone's very proud of the organisation," adds BLACKCAPS batsman Henry Nicholls.
"It's been a great season for the group, one that had a lot of individual highlights for the guys – and all of them contributing to this trophy."
Henry agrees. "I think to have a season like this one, you have to rely on your whole squad – and in all areas, we have used that whole squad. We had a few debutants step in this year, and some guys who haven't played as much but every time they got an opportunity, they took it right down to Harry Chamberlain with his maiden century in the last round.
"We had talked about that at the start of the season. That everyone knows their role and the key is to perform it when required to do so. It's been really exciting to see that through the entire season. Not talk, but really doing it out there. I'm immensely proud of this team."