13 February 2019
Erin Bermingham to captain in her 100th cap for Canterbury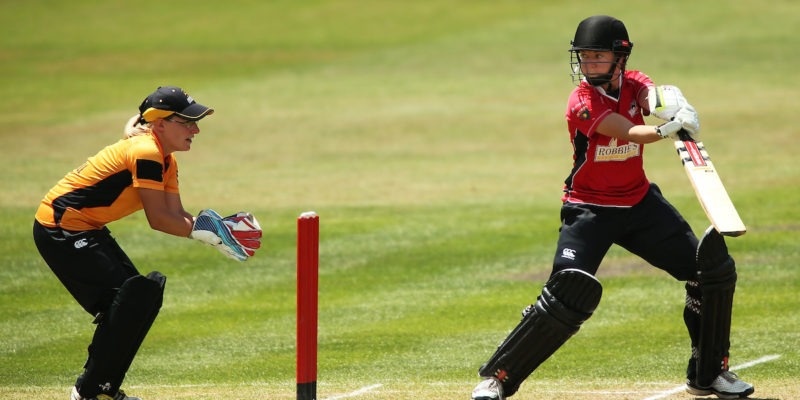 Canterbury Magicians faithful and all-rounder Erin Bermingham is set to play her 100th one day match for Canterbury when she takes the field in Wellington against the Blaze on Sunday.
The 30-year-old will be the third Canterbury Magician to crack 100 matches following in the footsteps of Amy Satterthwaite and current White Ferns coach Haidee Tiffin.
Bermingham has been a regular in the Magicians outfit and has represented New Zealand as a White Fern on 65 occasions. A genuine all-rounder bowling leg-spin, she looked up to Shane Warne for inspiration "Growing up I watched a lot of Shane Warne and like most young leg spinners, I wanted to bowl like him. The way he went about his craft was inspiring".
Speaking about her career and the impending 100th cap, Bermingham commented: "It's a huge honour, I absolutely love playing for Canterbury. It's something that, at the start of my career felt was a long way away but it was always a dream to play 100 games for the red and black".
Bermingham was 18 when she walked out for her first Magicians game. "There was a mixture of nervousness and excitement, probably more nerves to be fair – playing with the calibre of people that were in the team (my idols at the time) was daunting but something hugely exciting for me and my family".
When asked about her most memorable moment in the red and black, Bermingham added "Earlier in my career we were playing in Timaru against Otago. We needed 17 runs off the last over to keep our season alive, and Selena Charteris and I managed to chase down the total and secure the win".
Throughout her playing career, seeing team mates develop and become better people and better cricketers has meant the most to Bermingham. Oh and who could forget.. winning all those national titles!
After a successful Burger King Super Smash campaign (runners-up), the Canterbury Magicians return to the Hallyburton Johnstone Shield ODI format, where they meet the Wellington Blaze this Saturday in Wellington. Erin Bermingham will Captain the Magicians, with Frances MacKay out due to an injury.